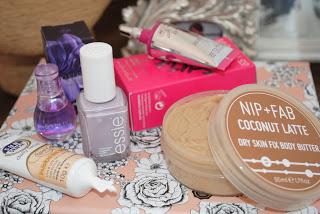 I don't normally post about Glossybox (read that as I've previously posted about it once), primarily because there are so many other (better) posts written about it that I don't think the bloggersphere
really
needs another post on the subject matter. But I am
SO
excited about what I received that I just had to share!
I had totally forgotten until I opened the outer packaging that April's box was another themed box. This time in collaboration with Pearl Lowe. I love the themed boxes, or more precisely the packaging of the themed boxes. I keep these boxes and store all manner of things in them from my muslin cloths, to nail polishes through to photos. Do you keep the boxes and if so what do you store in them?
This month it is the Spring Fever box and in my parcel I got:
SunSense Daily Face SPF 50+ Invisible Tint Finish. This is made in Australia and this product offers a broad spectrum sunscreen (which you would expect from an Australian company) with a sheer matte tint. I mostly use a tinted moisturiser with SPF in the warmer months so I am really keen to try this product. The only downside with the sample is it has one of those annoying snap off tops, so once it's open that's it, it's open to the elements and as there is more in this little tube than I would use in one day, I am probably going to have to keep it in a pot. (Just a little bugbear). This product retails for £18.50 for 75g and the sample size is 10g.
Nip + Fab Dry Skin Fix Body Butter in Coconut Latte. I've heard of Nip + Fab but have not tried any of their products until now. I tried this for the first time last night and it is a lovely rich but light lotion. I love coconut but couldn't quite get my head around what this scent reminded me of, until I asked Mr B.P. and he said PLAY-DOH, and Oh God is he right, it smells just like it, which has put me off slightly but I will keep using it! This product retails for £9.95 for 200ml and the sample size is 50ml.
ModelCo Cheek + Lip Tint in Rosy Red. This is the one product that I'm not so sure about. I really don't like these tint products and I would say this is quite like a stain. I found it to be very matte on the lip, so I think I will stick to using it on my cheeks only. I received a full sized product which is £15 for 10ml
So Elixir Purple Yves Rocher Eau de Parfum. Now I know a lot of you don't like receiving perfume samples in your subscription boxes but I don't wear perfume an awful lot and if they come in cute dinky little bottles like this one, then I am happy! As soon as I read it had a mix of tuberose, vetiver and patchoouli I was sold. I can see me getting a lot of use out of this scent. This product retails for £44 for 50ml and this sample was 5ml
Essie Nail polish in Nice is Nice. This is a gorgeous light lilac with a hint of grey, which will be great through the Spring and Summer months. Anyone who has read my blog long enough will know of my love for Essie polishes. I have posted a number of NOTD using their polishes and recommended them numerous times on other blogs, so much so that I should get commission from Essie hehe! I think I literally squealed when I found out this was inside (I am easily pleased). A full sized product came in this box which is 13.5ml for £7.99.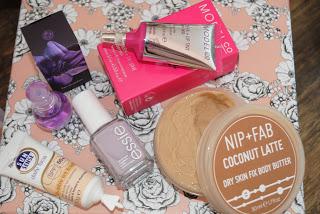 So all in all I am totally stoked with this months box . Do you subscribe to Glossybox and if so what did you get? Also are you a read from the 'magazine' first kinda gal or do you just sling that aside and rip right through that tissue paper?! I would love to know! (I am the former).