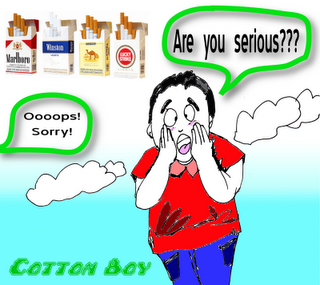 Cotton Boy may be sort of delirious and is a person who has too many bubbles of dreams floating in the air. I am working diligently and juggling them as fast as I can to assure they won't crush and shatter on the ground. I have dreams; I am deliriously funny but I am logical, sensible and practical as well. I certainly understand what I should be conducting in life though the outcomes, perhaps, are occasionally different than I expect to receive. "That's life! We can't all be a winner, huh?" I roar at myself often to boost up my falling determination. I dare to say I am a sane living creature; I am a damn good civilian because I don't trick people!
The following story once again happened at the drugstore in which I work. Each day before I step in the entrance of this "San Diego Zoo", I know something weird and odd is about to occur. Yesterday, a highly delusional lady dressed in pitch black with a gigantic Christmas catchy red flower up above her left ear stalked at the store aimlessly. She asked many, I was one of the inquisitors, "Where is the mirror?" She blurted. I said, "Mam, you are standing in front of the mirror. It is the biggest we have at the store." She twirled, tittered and winked at the mirror." A moment later, she raised her voice again, "Where is the mirror?" I decided to grab my restocking stuff and hustled out of the aisle because her behavior was way too difficult for Cotton Boy to fathom.
Later, I was at the Christmas aisle of the store to replenish and tidy up the mess on the shelves. Christmas is a joyful season; I was immersed in the spirit while listening to all the Christmas Carols. While I was humming "Let it snow; let it snow; let it snow," I heard a young lady next to me with a basket on her elbow, first weeping, then sobbing, later bawling on her mobile phone. I thought this embarrassing moment wouldn't last long and I pretended I was attentive only to stock the shelves. She burst out and slouched on the floor as if her life was destroyed by a brutal tornado. I mumbled, "Time to go before getting into trouble," I wrapped up and pushed my stocking cart away.
An hour later, I was assigned as a cashier to release someone to have lunch. A dark curly hair dude, with a big pair of light brown eyes, in his 30's, medium size and clean cut emerged and requested the following:
"I need two packs of Marlboro Lights; one regular Camel Lights and two Winston's Lights," blatantly said by him. "This comes to the total of $31.54," I stated. He swiped his credit card. I was courteous and claimed, "Sorry Sir, the transaction didn't go through!" (If you have some extra time, go back and read one of my posts, "I got money; you guys are wrong." It is a slightly similar story to the one I am telling now.)
He excluded the 2-pack of Winston's and indicated me to adjust the total. I replied, "It is now $20.30." He swiped it and the screen displayed the word, "Declined" again. He looked jittery, but his hope was still high. He reduced to One Camel Lights and uttered, "Can you take the two Marlboros off?" "Sir, you total is now $6.14," I firmly confirmed.
The order, the cancels, the voids and the adjustments consumed more than 2 minutes; the waiting line was thronged with customers. I began getting impatient. He swiped once more time. Guess what? It was declined! Before I tended to ask if he could pay by cash, he was dismayed and walked away with a qiuck response, "Oooops, Sorry".
"What a fuss and waste of my time! This guy craves for cigarette badly. He is totally addicted by nicotine. It is a shame to have credit card that cardholders don't even have a $6.00 credit but still use it to search for luck!"
By the way, do you know which State in America has the most smokers and which State has the least?
According to the latest Smoking Prevalence in the U.S, Kentucky is ranked first, 28.6% of the population are the smokers. Utah is ranked last with 9.8%. The State of Ohio where I am residing is ranked 12th out of the 50 States with 22.5%. (Figures are extracted from Wikipedia.com)