Related Post - Atrocity in a Metro City - Hyderabad 
I haven't had a decent cup of tea in a long time – the kind that refreshes you within seconds. Bhubaneswar has no dearth of tea stalls that do not shy in putting enough milk in the cup. However, the hot weather doesn't allow one to drink as many cups of tea as one would have while living in Guwahati.
After the third cup of the day, I feel nauseas. And when tea isn't there to sweep you off your worries, everything else starts bothering you.
When I first landed in the city last year in September I was impressed by how the cabs arrive just minutes after you've booked one, how the roads are free of potholes in the major parts of the city, how the highway helps me travel anywhere in twenty minutes even when I live a little outside of the main city.
Perceptions do not take long to change and I am now often reminded of the quote in Sanskrit that says
दूरस्थाः
पर्वताः
रम्याः
– the hills look lovely but only from a distance.For when you see them closely, you see the unevenness, when you try to know them, you experience the climb. Bhubaneswar, for me, despite its geological evenness, has been a climb.
At first it seems to be a peaceful lazy city. Most shops would put their shutters down in the day-time so that they could go for their siesta after indulging in a rice-full meal. There won't be any hustle-bustle in the streets after 10pm so that it would appear to be almost post-midnight. There would be crowds with families near temples or any other touristy locations on weekends. The people here would swear by their beaches, suggesting me often to go take a visit to Puri or Konark, and if possible, both.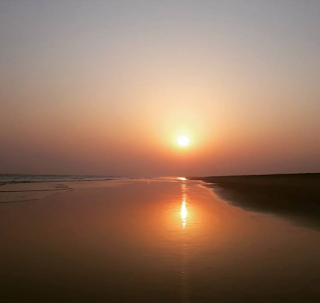 Konark, Odisha
I loved the
dalma
in the Oriya thali we would often have for lunch; I would rejoice to see
luchis
occasionally on the breakfast menu. I would go to restaurants and enjoy anything that was served- everything had a good taste. The Oriya thali would have a lot of varieties when you opt for veg but only the meat curry with salad when you go non-veg; but that's the culture here, I would say. And in the evenings when I wouldn't have much to worry about, I would go for the latest trash movie to happily waste a couple of hours of my day. But those were the times when Domino's was still serving Pepperoni Pizza in India.
Times have changed now and it's been a little more than four months since I moved here. Now I know this place enough to realize that the peaceful city from a distance holds in itself innumerous quarrels on a day-to-day basis, most quarrels would arise for no reason. Being one of the poorest state of India, things don't work here (not even in the capital) the same way it does in most cities – the prices of meals are low and so are the certainty of any service being done or product being delivered even though you pay handsomely for it, more so if you pay in advance. People may not mean what they say in other places, people may not stick to their words; in this city, you can be certain that they won't. You can trust only a handful of people and that would be it. Whatever happened to meeting great strangers in my history of traveling?
I lost my trust in professionalism here ever since my rummage for a flat began. How easily I had found a place in Delhi when I was 20 and in Mumbai when I was 22 from brokers who would look no less than goons. Here a sweet lady broker outsmarted me big time for putting too much trust on her words.
Now I know the roads of the city well enough to comment on the rules of the road here – while I love the dancing traffic personnel (see Youtube videos to know more) I absolutely hate sitting shotgun while traveling here. The less you observe the unruly movement of the vehicles, the less you'd worry for your life.
Now I know professionalism in the city well enough to not expect to be served a glass of water unless I ask for so.
Now every time I go to a restaurant I cannot un-see how bad the management or the service is, how this lazy peaceful city gets restless when they are asked to work- for the coffee shop waitress would be quick enough to say no to the menu item you choose without offering you an alternative you would prefer, for the restaurant waiter would be quick enough to say the option you choose is going to take longer than expected.
"How long?"
"Sir… oops, Madame, fifteen minutes."
"I don't mind."
The waiter would then take the order oblivious to the fact that fifteen minutes isn't long for a restaurant cooking fresh meals. Pardon the joke, but customer service isn't really the forte because people here are so afraid of their bosses that they might as well disappoint a repeat customer.If you're a woman in Bhubaneswar, do not mind if people call you "Sir" by mistake. They are not used to madams in their lives. At first I thought it was because I hadn't threaded my faint moustache off.
It took me some time to accept that it had nothing to do with my appearance, that most women aren't treated with the same respect the men are, when female colleagues would share similar stories- experiences I can't pen down.
An acquaintance of mine once told me- people here are not used to fiercely independent women like you, give the city some time. Now all I can do is give it some more time…