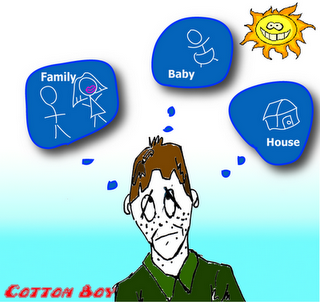 "A "Crack-Baby" refers to a baby of a woman who uses cocaine during her pregnancy. Her fetus is exposed to the drug. Cocaine slows fetal growth. When the babies are born, they tend to be smaller with smaller heads," he explained literately. I glimpsed at him from head to toe. He does have a tiny head; my head is one and half of his size. Since the term, "Crack-Baby", was so interesting and invigorating, I went home and conducted some research the same night after work. You may be wondering if "Crack-Babies" have any defects in cognitive, developmental and language problems.  Studies claim as these "Crack-Babies" grow, their brain and body size, indeed, catch up like others. The effects of cocaine on a fetus are thought to be similar to the usage of tobacco and less severe than those of alcohol. In a nutshell, there is not much difference except, "Crack Babies" generally have a smaller head.
I started thinking, "huh, I have a bigger head, but it may actually contain a smaller brain." This explains well why I am anchoring my life at the drugstore with all these education that I have invested. I can't even compete against a high school graduated "Crack-Baby. "I am doomed", I moaned. My heart sank and wept not because Jacob has a meager life; I sobbed silently because I am striding on the same career path along with Jacob.
I looked at my iPhone. There was a 10-minute left for my lunch. I gobbled up the sandwiches and finished my Mountain Dew. I wiped the crumbs on the table and readily made a visit to the bathroom before returning to work. I signaled him that he may finish his story one day, but he couldn't terminate the conversation. He continued standing in front of me with his two hands griping on the table. "I was born prematurely. My mother left me. I was placed in a foster home. My grandparents claimed me back. I lived with them until I graduated high school. My Dad showed up a few times throughout a year at my grandparents' apartment, but no one knows what he was doing, where he lived and how he sustained his life. Until two years ago, Dad asked me to move in with him. Everything starts crumpling down."
I had no idea why he was making this confession to me; as a matter of fact, I had heard enough, but it was rude to abandon him alone in the pantry. I wish someone would come in to dissolve his tense and my awkwardness.
"My girlfriend is living with us for a year. She wants to get married and have babies," he chuckled softly. "Jacob, did you say, "BABY" or "BABIES"? Are you planning to have more than two? You are still young. The world is waiting for you. What is the rush? You need to plan!" solemnly I responded.
"Oh, Cotton Boy, in China, I heard you guys are only allowed to have one baby. Here in America, we can have as many babies as we want," he tried to convince me. "Jacob, it is not what I was implying about One Child policy. It is all about a "PLAN". My lunch time is up; I should go," I retorted.
I understand I have no right to criticize anyone; as a result, I had better leave the discussion. He has dreams and Cotton Boy has dreams too, but our dreams are not on a same orbit.
***According to the latest figure from an article, Report: Child homelessness up 33% in 3 years written by Marisol Bello and posted on USA Today on December 13, 2011, one in 45 children in the USA — 1.6 million children — were living on the street.***