I've been obsessed lately with beauty gurus, both vloggers and bloggers.  After much thought, I have decided to start a new beauty blog and/or YouTube channel.  With Alivia starting school this Fall, I'll have an entire hour and a half each day all to myself.  I say that sarcastically since an hour and half isn't even enough time for me to catch my breath never mind fulfill a life long passion of mine: MAKE-UP!  And although it may not work out or fit in with our day-to-day activities and schedule, I'm still going to take the plunge and try!
BEAUTY GURU OR BUST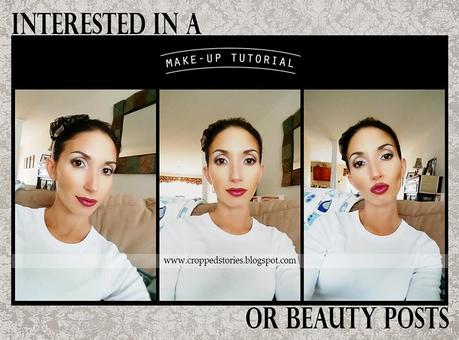 Go easy on me, I'm still trying to perfect my selfie skills.  It's not easy taking pictures of yourself without a little bit of face and/or body distortion.
With that said, I'd love to know what my readers would be interested in.  Topics you'd like to see me post about, videos you'd like to watch, things you'd like to learn etc. 
For those of you interested, I have every intention of keeping my primary blog, Cropped Stories, up and running.  Of course, since my leave of absence, I'm sure you've noticed quite a BIG change in the frequency of posts being published.  I went from publishing 2-3 posts a week to 1 every couple of months. 
So, how do I intend to maintain two blogs when I can barely maintain one?  Lots of praying!  Praying for more hours in the day, ten more fingers to type with, Alivia to take naps, and a seemingly quick knowledge of video editing software.  I just want to know how to add music to my videos already!
Anyhow, your participation in my poll would be helpful and much appreciated.  You can also feel free to leave me a comment or email me at:
croppedstories[at]gmail[dot]com 
I'm thinking of starting a beauty blog or YouTube channel. I'd love to know which topic would interest you most.
1. Make-up tutorials/hauls2. Beauty product reviews3. Beauty product recommendations4. Fashion, accessories, and selfies
pollcode.com free polls 
If you missed my previous post, Blogging: 8 Ugly Truths, feel free to catch up!  Also, feel free to pass this along to others you think would be interested in voting!  Have a great week!
Technorati Tags: beauty blog,youtube,makeup,make-up tutorial,selfie,poll,pollcode,beauty product recommendations,beauty product reviews,fashion,accessories,vlogger,beauty guru,vote,fall make-up