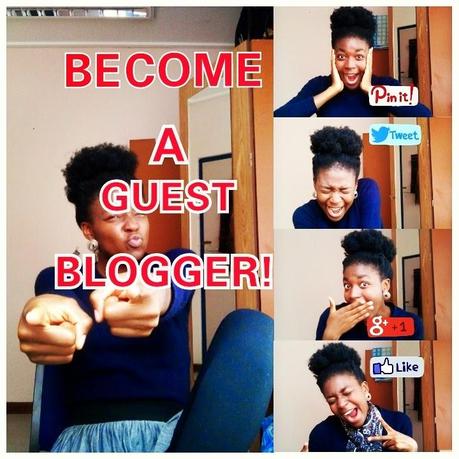 I'm introducing and welcoming with Open arms Guest bloggers, You, you and yes you too! Of cause you don't have to be a blogger or own a blog of your own to become one.You just need to want to be one. I think it'll be an awesome way to show my appreciation to you all who read my blog! It's also great opportunity to widen your audience if you already have a blog or familiarise yourself with writing a blog post if you want to start a blog.
Below are the categories you have to choose from. But if you feel you've got something great not on the list, let me know and we could make a plan.
1. Wardrobe insider
P.S. You could just do a compilation of pictures of you in your favorite outfits. Give us a peep into your wardrobe!
2. Hairstyle tutorial ( pictures or videos)
No hairstyle is off limit! But it can't be too Avant garde!
3. Christian Living
This could be about your Christian journey or any topic related to Christianity you'd like to write about.
4. Travel/Holiday post
If you happen to go on holidays, or if you have I'm sure there are like 100 pictures you took in Italy or Mozambique! Write and share le pics!
5. Hair/Makeup Product review  (Picture of product included)
People always want to know if a certain product is as good as the advertisers say! Well it'll be great to get some honest opinions on products you have tried!
Good luck and happy Blogging! Posts with poor quality photos and bad language will not be posted. Email me your posts on " [email protected] " and I'll get back to you super Quickly!
Really looking forward to more creative juices on the blog!
Joan A.