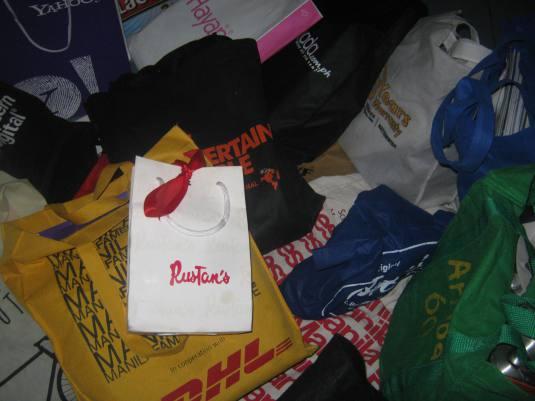 Some people ask me why I hang around with people some consider to have tainted backgrounds. They will ask me why I allow these people to attend my events. They wonder on why I am not afraid of being branded as similar in nature. There was this issue amongst fellow bloggers about quarrels involving some of the bloggers that I often meet during events. The issue sort of got me a special mention because we were all together (coming from an earlier event) when it happened. Many were surprised why I kept on accepting them at my events as if they did nothing wrong against me (for involving me in the issue).
Baffling as it is….here is my story.
To answer their inquiries, it would be best if they read my profile description below that I use in one of the blogs that I contribute articles to:
"I'm the ICT professional who's more into worrying about substance and creativity rather than structure and complexity, the gamer who takes a long time to finish a game because I often lose track of time admiring the eye-candy, and the sci-fi fanatic who often ponders on the opportunity to experiment on people like lab animals minus the gross stuff like dissections and cleaning up after the bloody mess (this last one is a joke). Follow me @pinoytekkie on Twitter and check out http://pinoytekkie.blogspot.com andhttp://wazzuppilipinas.blogspot.com for more of my stories."
The last description "the sci-fi fanatic who often ponders on the opportunity to experiment on people like lab animals minus the gross stuff like dissections and cleaning up after the bloody mess (this last one is a joke)" is actually not really a joke at all. It is somehow true to life.
I actually (most of the time) try to "experiment" on people for a lot of reasons, specifically:
1. I do not immediately believe in all rumors shared to me. I try to find out the truth on my own. I am more intrigued in befriending the persons whom some people regard as misfits of society. There must a reasonable story behind the intriguing facts so I try to get all the sides of the story. Also, it is more admirable to lift the spirit of a person being downed by his colleagues rather than staying away from him or her. And if ever I find out that they are guilty of the accusations, I try my best to influence them to change for the better. We need to rebuild this world to greatness by showing people we are more than willing to help motivate and influence the lost souls.
2. I would like to know who my real friends are. There are times where I intentionally act ignorant and insensitive. I want to observed their next move. Will they be going defensive, will they be trying to ruin my good name among colleagues, will they be showing their true hidden colors, – or will they try to talk to me pleasantly, will they ask me if I have a personal problem, will they teach me and guide me the proper way to act and be responsible. I know it may cause quite a disturbance among our group but its best to know who you can rely on in times of desperate needs…..so you can somehow work on them a bit more to influence them to act otherwise.
3. I am fascinated on how people behave. Each one of us has unique identities that are very interesting to observe. There are many factors that contribute on how we act and react. Everyone deserves their stories to be told and appreciated by each other.
Plus a lot more reasons…..
There are several other great stories that I wish to tell. It includes the numerous times when I was rewarded for acts that not many people would normally do, especially now that many of us are all busy and too occupied trying to earn a decent living. In a world where nothing is totally free anymore, it is great to know there are people that would go out of their way to support a cause and become advocates for what they believe in.
The latest of which was when I blogged about a certain product after seeing it for the first time. Others would have offered to blog about it in exchange for an article in their blogs, but since I knew he was just starting out and there's still no income generated from the product I chose to blog about his product because I believed in the potential greatness of it. When he found out about my blog on his own, and how I managed to creatively put the facts and images together to promote his product, he rewarded me by inviting me over for a cup of coffee at a nearby mall, and gave me one of his products for free. He also invited me to continue promoting his product by going with him on a trip to a very popular resort. He even asked me to invite other fellow bloggers for the trip.
There was also this company that was just starting to introduce themselves to the people. I blogged about them even before their launch, and then continued promoting them to acquaintances and the people I meet even after the launch. When they were thinking of having a grand launch, I also volunteered to help them out and suggested I invite bloggers for a very special bloggers conference to help them disseminate the news about their upcoming events. I  gave them a few suggestions on how to plan for the event, and exerted all efforts to invite fellow bloggers. I even invited a food supplier to grace their event so that it would help liven up the occasion. All these I did on my own initiative without expecting anything in return. Yet they rewarded me well for my help.
Plus a lot more interesting stories…
I am grateful that many of the people I took time to motivate have greatly improved their personalities. Many have undergone dramatic changes for the better. Many appreciated the little things I did for them.
You will notice that all my blogs have no ads in them. I don't monetize my blogs. I just blog for fun – and it is a hobby I use to share my stories to people. It is also a medium to express my opinions and learning. It is a means to share to the world my creativity. It is an effective tool to influence people. Of course there will sometimes be perks and privileges likes complimentary gifts, tokens of appreciations – and GCs – and sometimes free trips. But I would gladly continue to blog even without the freebies. They are just bonuses that we get for attending events that we appreciate. We should be attending events because we like the event, and are not only after the media kits and loot bags.
I also managed to bring together in one event the same people who had misunderstandings with each other. I hope it is just the beginning of finally bringing back their lost friendship. That is why I often organize events involving many bloggers – to give them an opportunity to heal their wounded feelings.
I am here continuously hoping that there would be more people that I can influence within my lifetime, and blogging is just one of the many ways I can reach out to more people. This is my advocacy in life – to influence and become advocates to a better world.