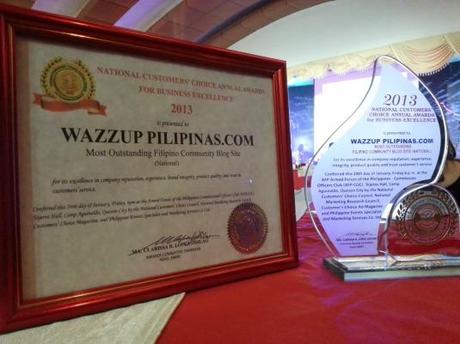 Wazzup Pilipinas wins as Most Outstanding Filipino Community Blog Site of 2013, a national award conferred by the National Customers' Choice Annual Awards for Business Excellence to selected companies and personalities "for its excellence in reputation, experience, brand integrity, product quality, and trust in customers' service.
Several companies and personalities that were recognized as excelling in their respective businesses from many different categories attended the grand event. Companies responsible for popular brands like Fila, EQ Diapers, and many others. Notable personalities that were also awarded were Vice Mayor of Manila Isko Moreno and Senator Chiz Escudero. Special guest speaker and performer, as well as an awardee, was comedienne and stage performer Giselle Sanchez. Also providing entertainment were The Angelos, and the Halili Cruz Ballet Company dancers.
The awarding ceremony was held at the Armed Forces of the Philippines Commissioned Officers' Club (AFP-COC) Tejeros Hall located inside Camp Aguinaldo Quezon City last January 23, 2014.
The National Customers' Choice Annual Awards for Business Excellence strives to make the public aware of top-ranked professionals, companies, products, brands, and service providers in various categories by conducting an independent market research survey that is statistically accurate. Through the recognition, the Awards aim to motivate these companies and individuals to continue raising the bar of excellence for the benefit of the customers. Award recipients are not selected by a panel of judges, but were chosen by you…the customers!
The award committees were composed of the National Customers' Choice Council, National Marketing Research Council, Customers' Choice Magazine, and Philippines Events Specialist and Marketing Services Co Ltd. The awards were formally handed over by Awards Committee Chairwoman Ma. Clarissa R. Lopez-Odilao, head of the National Marketing Research Council.She was joined by Ms. Racquel Estrella Curbello, Ms. Sani Domalaon Pigon, and Ms. Elain Estrada.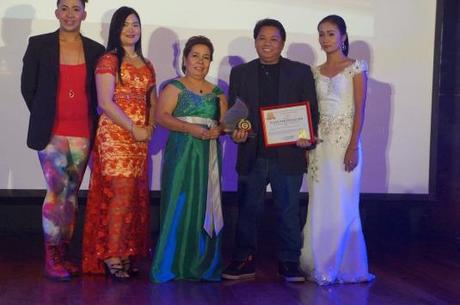 Ross Del Rosario, Founder and Editor of Wazzup Pilipinas, proudly accepted the award for the online community composed of passionate and uber-creative bloggers that is partnered with the Tourism Promotions Board of the Department of Tourism (DOT), the Department of Transportation and Communications (DOTC), and several other brands and events as their online media partner and brand ambassador.
Wazzup Pilipinas plays an active role in promoting everything that is happening in the Philippines that are of interest to all, especially the Filipinos. This includes events announcements and press releases coming from both private and public organizations in the Philippines. The online community provides promotion for events and brands through their blogs and social media accounts and also covers the actual events to experience them personally.
It was only last September 2013 that Wazzup Pilipinas was recognized as one of the Top Ten Emerging Influential Blogs of 2013 by DigitalFilipino.com, an online organization headed by Ms. Janette Toral, now known as the Mother of E-Commerce. The recognition, on its 7th run, was an annual writing project that seek to identify new and emerging blogs who are making an impact to its readers last 2013. The blogs chosen were those that were gradually gaining a considerable amount of readership, following, influence and fascinating the reader in various ways. The bloggers behind them established the blog for various reasons such as expression of thoughts, sharing of knowledge and insight, building a movement, events reporting or coverage, and some for profit.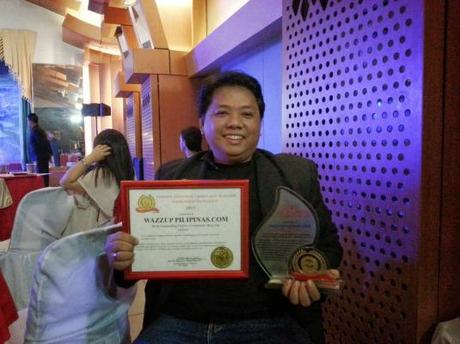 Wazzup Pilipinas is now also announcing that it will be given recognition as the Best Filipino Community Blog Site to be conferred this time by the Golden Globe Annual Awards for Business Excellence.
The Golden Globe Annual Awards for Business Excellence also recognizes companies and personalities that have achieved business excellence. This Awards and Recognition program is a joint undertaking of Golden Globe Awards Council, National Data Research Examiner and Marketing Services, Inc., Philippine Best Companies.com Inc., SINAG News Magazine, and SINAG Foundation, Inc. The Awards Council believes that companies striving for top-notch quality of business performance are those that exemplify business excellence and reap success. Awarding will be held at 6 pm on March 22, 2014 at the Centennial A Grand Ballroom of the Manila Hotel.
Wazzup Pilipinas, the self-proclaimed National Blog of the Philippines, proudly turns 1 year old this March 2014, and what a better way to celebrate but at the historically fabulous Manila Hotel. March 22 will be sort of a double celebration for the fastest-growing and most dynamic online community!