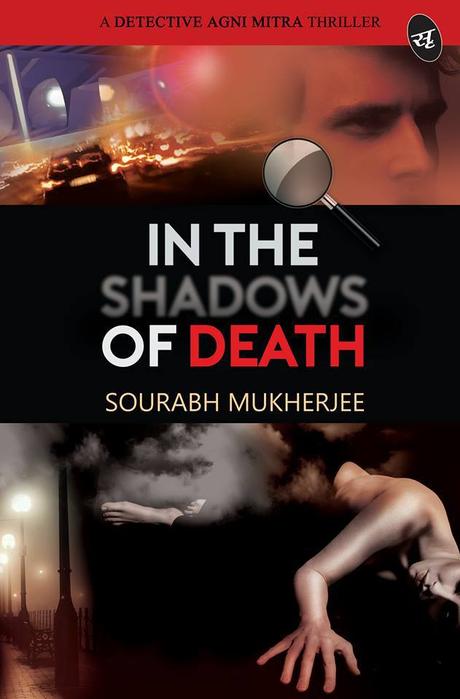 Title- In the shadows of death
Author- Sourabh Mukherjee
Pages-217
Publisher- Srishti Publishers
Genre- Fiction
** I got the book from author for review **
---
RATINGS-
Cover- 4/5
Blurb- 4/5
Writing Style- 4.5/5
Overall- 4.7/5
---
BLURB-
Sheetal Mehra, HR executive with Cresent Technologies, is found murdered in the  toilet of a Kolkata hotel after an office party. ACP Agni Mitra finds out about her adulterous ways as he starts investigating into the murder. The miffed husband, a lecherous boss, one of her many jilted admirers- anyone could have killed her.
The investigation is stuck in myriad perplexing questions when the murder of Meenakshi Menon, a Director with Altius Finance, hits wits with his unseen adversary turns personal for Agni.
A ruthless killer walking in the rain-0 washed streets of Kolkata. A detective battling storms brewing in his private life. Human relations infested with deceit. A generation struggling to cope with fast- changing ambitions and desires.
---
REVIEW-
First of all, I would like to say that, Time is changing. Gone are those days when romance was the only genre to be written about. Now a days, authors are writing on different genre and that too so splendidly.
" In the shadows of death" is a book written with a perfect storyline. A perfect mixture of romance and mystery of the corporate world which is also visible from the cover page of the book.
Author has very beautifully described each and every situation. Characters are beautifully described. A new mystery opens up in each chapter. At no point,  I felt that the book is getting less engrossing or I am getting bored.  The book promises to keep the reader engrossed till the end.
The writing style is kept clean yet enthralling. In addition, the story has perfect twists and turns which served as a roller coaster. The constant correspondence between past and present kept in the story served as in icing on the cake.
Overall, it was an enthralling read for me.
NOTE TO READERS'-
To all those who want to read something mysterious with twists and turns can surely pick up this book.
Filed under: Book Reviews Tagged: BOOKREVIEW, crime, enthralling, fiction, mysterious