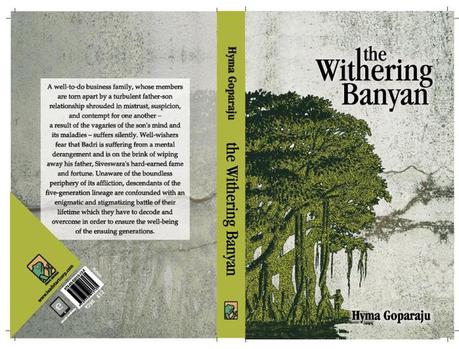 Title- The Withering Banyan
Author- Hyma Goparaju
Pages- 358
Publisher- Leadstart Publishing
Genre- Fiction
---
RATINGS-
Cover- 3/5
Blurb- 4/5
Writing Style- 4/5
Overall- 4/5
---
BLURB-
A well to do business family, whose members are torn apart by a turbulent father-son relationship shrouded in mistrust, suspicion and contempt for one another- a result of the vagaries of the son's mind and it's maladies- suffers silently. Well- wishers fear that Badri is suffering from a mental derangement and is on the brink of wiping away his father, Siveswara's hand- earned fame and fortune. Unaware of the boundless periphery of it's affliction, descendants of the five- generation lineage are confounded with an enigmatic and stigmatizing battle of their lifetime which they have to decode and overcome in order to ensure the well- being of the ensuing generations.
---
REVIEW-
The withering banyan deals with the story of a Marri family in which family members are suffering from a brain disorder called Schizophrenia which is a kind of genetic disease and is transferred from one member to another. One member of the family gets affected by this disease and it continues fifth generation. The author has talked upon such a disease which is still unknown to many of us till date.
The story itself is a combination of two stories, i.e. one in the past and the other in the present. The author has very intelligently worked upon both the stories and made them converge in the climax. The use of language is kept simple with some good vocabulary.
The story shows up the problems of Indian Families and how they deal with it. It shows how a kind of mental disorder( illness)  due to lack of information & knowledge is overlooked and is given the name of physical madness ( illness)  and left the patient to suffer it all alone. Justice has been done by the author in explaining all the characters till five generations from birth to death. I liked the character of Natya who has the perfect character and is mature enough to deal with each and every situation intelligently. In addition, the poems added more glory to the story.
NEGATIVES-
I felt the length of the book was too long for it could have been kept a little  short so as to keep the reader more engrossed in the book.
NOTE TO READERS'-
For all those who are looking for some serious read with good language can surely pick "The withering Banyan". The book won't disappoint you.
Filed under: Book Reviews Tagged: banyan, BOOKREVIEW, goodbook, hymagoparaju, intriguingread, seriousread