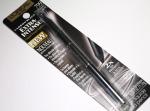 As you may have read, I have been a huge, dare I say, ginormous fan of Bare Minerals in every color, form and product.  However, recently I fell into temptation and tried a new product from L'Oreal....Liquid Eyeliner Pencil.
Seriously?  Liquid eyeliner in a pencil?  A pencil you can sharpen?  Yes please!
I cannot adequately describe how much I LOVE LOVE LOVE this eyeliner!  As previously posted, to say I have extremely sensitive eyes is at best an understatement.  I'd apply pencil eyeliners only to have my eyes tear up and smear the lines before I could even finish one eye.  If, by some stroke of sheer luck I managed to draw a line across the top eyelid, I couldn't even consider lining anywhere near the waterline on my bottom lid.  Somewhere just outside the lashes was as good as it was gonna get.  Other pencils would stick and pull on my skin causing jagged, uneven lines and of course, more watering.  Not having quite the steady enough hand for liquid or gel liners, this was an every day battle.
So I succumbed to the calling of the makeup aisle at WalMart and bought this little stick of eye lining greatness.
This eye pencil glides on rich, brilliant, eye-popping color gently and smoothly; easily allowing even me to apply it to the waterline without tears!!  It dries quickly and lasts until I take it off.  The pencil also offers a smudger on the opposite end of the pencil.
For me this is a makeup MUST HAVE! Thanks L'Oreal! Definitely worth it!!