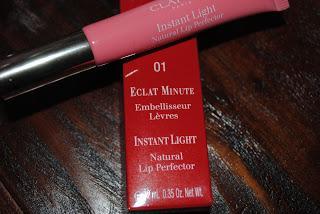 I am one of those people who really suffer during the colder months with sore, dry, chapped lips.  A combination of changes in weather and temperature, central heating, out in all weathers walking the dog, it all really plays havoc with my lips, so I am always on the lookout for something which will not only soothe but will look pretty to boot.  So when I saw Jennies review of Clarins Instant Light Natural Lip Perfector, I just knew that the product was for me.  Jennie purchased all 3 shades and wrote a fabulous review (when doesn't that girl write a fabulous review!) which you can read about here. 
I decided to go with 01 Rose Shimmer, but worry not as it's not really shimmery for all of you with an aversion to all things glittery but just very sheer and glossy with a veil of color.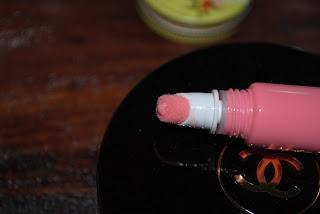 Clarins describe this product as - "A softly textured lip gel with a deliciously sweet scent.  Lips are left looking soft, smooth and plump.  Sheer, but has enough color to wear alone or to complement your favorite lip shade".  And I can't argue with that.  The first thing I was drawn to was the smell, it is unlike anything I can place.  Yes it is sweet and usually you think uh-oh sickly but this doesn't smell or taste sweet and sickly at all, it is just pure yumminess!
The texture to me is a little like a lip balm crossed with a light lip gloss, so as well as soothing the lips as a balm would do, it also gives a glossy slick of color which is great for everyday wear.  That said, it's not the longest lasting of lip products I've ever tried and at £16 a pop is also on the pricey side BUT the payoff for the quality you get with Clarins and the fact it has sorted my poorly chapped lips out means it was worth every penny.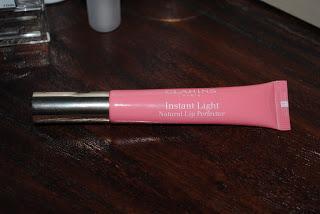 You can buy Clarins Instant Light Natural Lip Perfector for £16 here.
Have you tried this product? What do you think? Are there any dupes out there which you really think I should try? Let me know!