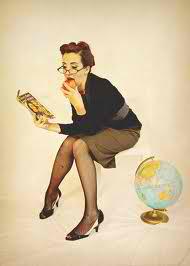 Conspiracy Theories.
…It's one of my favorite things.  I thought maybe I'd share a couple with you and then if you agree, we can form a team and do secret Op investigation on it all.  This has nothing to do with what I'm watching on T.V. lately, btw.  All I know is, if I suddenly go missing (or this blog does), and you only faintly think you remember wasting time reading something resembling this entry… you'll know I was on the right track and they had to silence me.
My theories are in no particular order:
* KFC chicken isn't really chicken, that's why they did the whole new marketing name change in the 90′s.  So what animal with tiny bones are we actually eating then?  I have it down to Chihuahuas imported from Mexico.  And the thing is…I totally still eat there sometimes.
* The term we have come to know as "Aliens" are only the evil kind that they keep covering up, so we don't freak out all the time. The good kind of Aliens have already adapted into our society, so we can't really tell the difference.  But I can.  Here is a listing that may help you figure out their patterning:
 Good Aliens  
- Elvis  
- Shakespeare  
- Helen Mirren   
- Abraham Lincoln  
- Bill Gates  
- Whoever invented coffee  
Bad Aliens
- Simon Cowell
- Whoever wrote Beowulf
- Ann Coulter
- Rasputin
- Bill Gates
- Politicians in general
* Almost every disease known in the world already has a cure, but the pharmaceutical companies make more money for endless treatments, versus a single dose of "fix it" meds.
* Somewhere, a CIA agent is reading this blog right now, because it just got dinged as "suspicious" due to the tagging contents. They totally agree with at least half of the things on this list, and prob'ly could add to them.
* Reality TV has nothing at all to do with "Entertainment Programming." It's only a monster syndicated product placement program. The joke is totally on you for investing in it emotionally. Even a little bit. All they really want is for you to buy their stuff.
* Secret Agents actually break into your laundry room routinely in order to steal your left socks. This is so you will spend all your time wondering on where they disappear to instead of things like "the government" and real conspiracy theories.
* All advertising is actually in a special code that allows people to sell you old or compromised versions of things that didn't sell the first time, but without getting sued for it. Here are some of the codes I've broken so far:
- All New! = (We painted, dyed, or repackaged it.)
- Fat & Sugar Free = (We pumped that shit with toxins to make up for it's total lack of flavor.)
- Four Out Of Five Specialists Agree! = (One or the other group we asked about this is right, we aren't sure which one, so we are covering our asses by including them all.)
- Extra Strength = (Trick advertising. Nothing comes "regular strength" anymore, and hasn't since sometime in the 50′s.)
* Stupid people herd in groups in hopes of lessening their individual weeding out. This is why when you have "one of those days" where it seems like every person you communicate with is a total asshole or idiot: they actually are. Your aren't imagining it.
* On another planet in another solar system right now, a little kid version of their world-rulers are looking at us through a microscope, being told that what they are seeing has been dead for thousands of years. And we probably are, we just don't know it yet.
* If statistics can be applied to patterns, and patterns can be applied to coincidence, and coincidence can be justified by choice, and choice can be based on averages and averages go into the making of statistics, then your life span is totally computable, and "fate" is real because whatever choices you make already have a mathematical path of possibility. (I'm just totally making shit up now, but it sounded like a real thing at the moment, didn't it?)
~D