It's all begun.....
The first of our friends celebrated his 30th birthday this weekend. His wife organised a surprise 'Hollywood Glamour' themed birthday party. 
Everyone had dressed in their finery except the birthday boy (and scouse) who had dressed as Mr T because his wife had told him they were going to a fancy dress party which was wickedly 
hilarious
!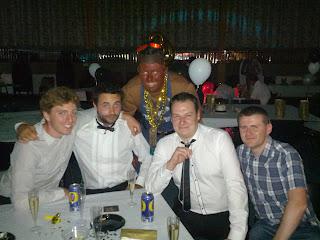 'THE BOYS'
Jack, Tindal, Gouldy, Andy and Scouse.
The party was a lot of fun but there was a lot of talk about
'Who's next?', 'What are you doing for your's?'
and a lot of comments on
'How things had changed'.
 Things certainly have!
This group of friends are Andy's gang from school. I met them when we met 13 years ago at the tender age of 16. Most Saturdays were spent at house parties drinking and giving it large into the early hours. At one party we gate crashed an indoor pool, the car ended up in a field, and at another I ended up with broken ribs. Just to mention a few!
Now the
desire to party hard has appeared to have deserted me
and I'm not sure when this happened. Despite having the opportunity to drink free booze I stayed sober out of choice. Before throwing caution to the wind I contemplated it a little and realised the idea of a hangover all weekend would be a waste of my precious days off. The thought of going to bed late and not getting a good nights sleep seemed outrageous, and the clincher was after just 2 weeks of not smoking I didn't dare because booze and fags go together like tea and biscuits.  
Instead at midnight like Cinderella I was ready to go home. I drove the boys into town and accepted their gratitude but little did they know I just wanted to get home,
 get in to my PJ's and have a brew. 

When did I become a responsible and boring grown up?