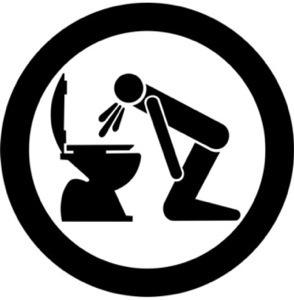 Please be gentle.
As I sit (with stomach muscles taut) clutching my Gatorade bottle, staring at the toilet (and the label of my probiotic), with mascara running down my face– "UNCLE!"
I'm about 3+ hours in and already waving the white flag. At this point, I'm praying that you're a kind and misunderstood, < 24hour pansy bug and not some week-long, come and stay a while; "Built Ford Tough", bully bug!
I'm really not cut out for this kind of torture, so I've taken a severe course of action against you. Nothing personal. Please have mercy on me. Fingers (and eyes) crossed. Here's to a speedy recovery! Whaddaya say?
Sincerely,
Jules
Sponsored By: "Saltines, it's what's for dinner!"