"Diwali is
A festival of lights,
When good won over the evil,
When the right outdid the wrong,
When the light outshined the darkness,
When the demons were defeated.
A festival of colors,
When everything is bright and positive,
When the lamps rekindle the faith,
When there is sweetness in food and talks,
When there are celebrations all around."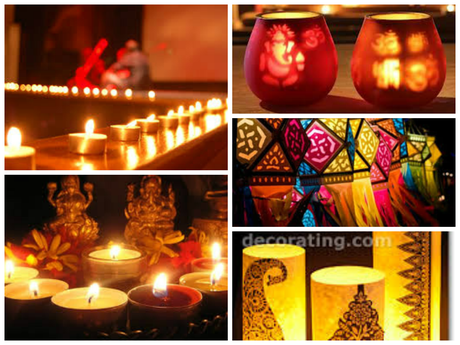 These pictures are taken on the day of Diwali. Everything feels so vibrant and vivacious. If this is what the festival is all about, then what is wrong with the picture below?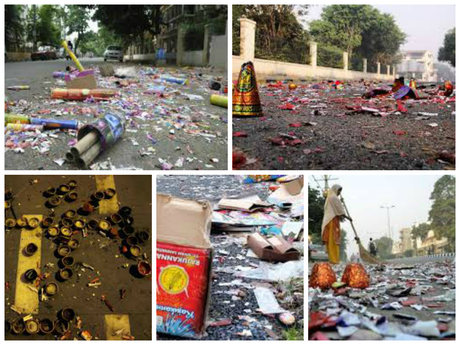 Diwali Aftermath
Somebody said- "A picture speaks a thousand words." I wonder how many words it would be if you were to compare the two pictures above. How much ever you want the first picture to be represent your Diwali celebration, the second one comes in the same package. In Bangalore, driving during Diwali is almost like entering an area full of land mines. It can set off when you least expect. Despite this, people who do not believe in crackers can still be large hearted and say this all just a part of festival.
We are a strange bunch of people. Speak about a change and others will get the emotion of tradition and culture leaving you with no choice than to shut up. Well, I really doubt if the second picture has to do anything with our tradition. It is funny but you clean every nook and corner of your house for days inviting Goddess Lakshmi only to later turn around and dirty the entire locality you reside in with toxic wastes. For now, forget the poison in the air, there is nothing we can do about it apart from the fact that crackers are banned forever which is not going to happen in the near future. But, the wastes from diyas and crackers can be easily disposed. Alas! The irresponsible citizens that we are, we choose not to do so.
If this is the aftermath of a festival celebration in our country, I would rather not have a festival like this. To claim, that it is a festival of lights and colors all sounds very fancy and probably appealing, but to profess that you stay in a clean India will never be a reality with irresponsible citizens like all of us.
Maintaining tidiness is as important as you teach your kids to be safe with crackers.
Own and clean up your mess,
Happy, safe and a CLEAN Diwali!
HPK!!!