Don't color me Red,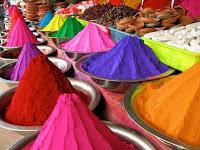 Don't color me Blue,But color me with, A color that's true,Colour me with a colour,That's so You.
Black is too boring,White I want to avoid,Red is a dangerous colour,And Blue, well,You know I am scared of swimming.
Green, I see everywhere,Pink, I find doesn't suit me,Yellow reminds me of a Taxi,Gold is too shiny.
Silver is too soft,Orange I find too loud,And there are 1000 colours and more,But I just want a color that's You.
And then I can think of only one colour,Every time, I look into your eyes,I seem to get so lost,Colour me Grey, I say.It's a color that's True,It's a color that is so You.
~ A Poem By Fizz
Wishing Everyone A Happy Holi!!!!
 Also read our Free E-Book - Reflections Of My Heart!!!