Goa is one of the top tourist destinations in India and is known for the sandy beaches, great nightlife, and its fabulous cuisine. Goa is a beautiful tourist destination with many tourist spots like churches, forts, waterfalls, wildlife sanctuaries, tourist beaches, famous hotels, flea markets, and fabulous lounges and nightlife spots. Goa is a beautiful coastal state in India with a Portuguese colonial past. It has a very different culture in comparison to other states in the country and it has a great tourist infrastructure as tourism generates a lot of revenue for the state.
Monsoon in Goa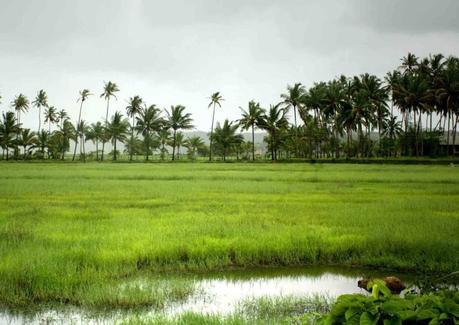 Rain starts in June in Goa and lasts the entire monsoon season in the country. The season starts in June and then ends around October. Months like July and August have heavy rains and then the rains ease up in September and October in Goa. This is considered as an off-season in Goa but there are many attractions in the Monsoon including Mollem National Park, Cotigao National Park and Dudhsagar Falls and trek to Tambdi Surla waterfalls. There are some popular festivals during the monsoon season and it is a lovely time to visit Goa.
Activities in Monsoon
There are many tourist activities that people can participate in while visiting Goa in monsoon. It is off-season so there will not be a crowd of tourists at famous attractions and some tourist activities are perfect for this season. River rafting is a major sport during this season in Goa. Other activities in the monsoon for tourists in Goa include visiting spice gardens, going on safari tours, taking a river cruise, and visiting the beach. Monsoon activity also includes driving and cycling around the Western Ghats, participating in local festivals and visiting tourist attractions while enjoying the local cuisine in Goa.
River Rafting in the Monsoon in Goa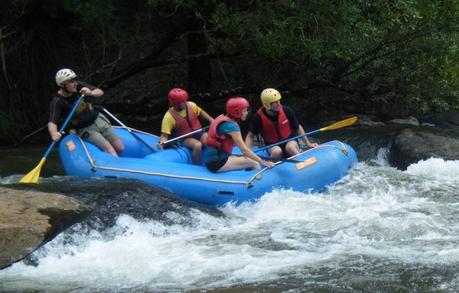 River Rafting is the main attraction in Goa during the monsoon. River rafting is one of the best watersports in Goa. River rafting is a fun adventure sports activity and it involves using an inflatable raft and navigating through a flowing river with a lot of difficulty as usually these rivers have choppy waters and flow through tough ridges. It is a lot of fun to navigate the rapids and handle the turbulence of this process. Adventure sports companies that organize river rafting include river rafting on the Valpoi River as it is the best place in Goa for river rafting. Other places where such river rafting tours are organized in Goa include Mandovi River, Dandeli near Goa, and Tilari River in Goa showcasing that Goa is a top tourist destination for river rafting.
Guide to River Rafting at Valpoi River
Usually, the river rafting adventure starts early at dawn and continues into the evening. Breakfast, lunch, and beverages are all included in the river rafting tour and usually, it also includes a little bit of sightseeing in the nearby areas. A river rafting trip usually includes visiting the Harvalem Falls, Ancient Pandava Caves and also, the nearby Shiva Temple. Usually, tourists can decide the various aspects of the trip and there are transport facilities available from all over Goa for tourists looking to participate in this adventure.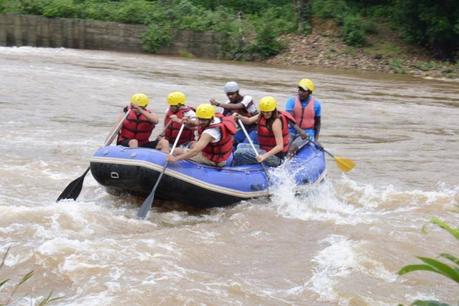 Planning the River Rafting Adventure on Valpoi River
Generally, river rafting is banned for children, pregnant women and for people with heart problems. Tourists can decide the type of river rafting adventure that they want to have when they participate at Valpoi River.
River rafting trips are generally taken on inflatable rafts and the trip includes instructors on the raft for safety purposes. There are trips available on Valpoi River for example for different durations, at different price ranges, for different lengths on the course of the river, and with small or large groups.
The Valpoi-Mhadei river is well known all over the country for one of the best destinations in the country for river rafting but people also visit other river rafting sites in Goa as this is one of the things to do in Goa especially during the monsoon months.
It is important to carry sunglasses, wear comfortable clothes and wear shoes like aqua shoes or light sneakers or floaters which are very well strapped so that they do not fall off.
Taking other essential items like extra clothing, sunscreen, hats, swimwear and also, water bottles is a good idea.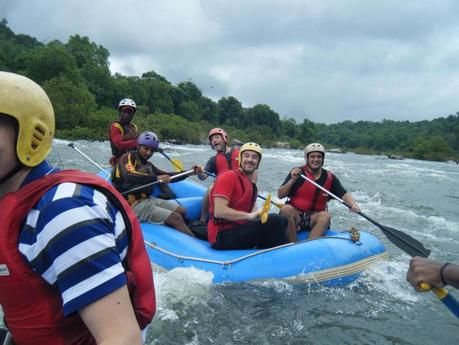 Cost & Booking Details
There are many types of river rafting adventures that can be planned in Goa and the costs vary according to many parameters of the trip. There are 3 hours of river rafting tours available as well as trips and adventures that last 12 hours.
Depending on the details, the activities, offers and the facilities included in the river rafting trip, the costs are determined by the company organizing the river rafting adventure.
Generally, the costs range from Rs. 1500 per trip to Rs. 5000 per trip depending on the type of river rafting trip that is planned and organized by the adventure sports company doing business in this region.
Details, testimonials, and booking options are all available online. Contact details for reputed companies in Goa that offer such adventure tourism trips are also available online.
Booking can be done by contacting the tourism operators who offer river rafting in Goa in the monsoon or simply booking the trip online and paying through online booking options. Many companies have a cancellation policy of around 15 days which is very beneficial for tourists looking to plan such a trip in Goa.
Rafting Review
River rafting is a major adventure sport in India as there are plenty of rivers all over the country and in the monsoon season, these rivers flow at full speed and the tourists can enjoy a white water rafting adventure in choppy rivers in India. River rafting is popular all over the country and it is a great idea to choose Goa for a river rafting adventure in the monsoon months in India. Goa has many tourist attractions and going to Goa in the off-season for a river rafting adventure is truly a great idea. River rafting is an exciting adventure and the tour operators have professional instructors and take safety precautions so that tourists can enjoy the adventure in a proper way. River rafting can be best enjoyed in the monsoon season as it is a great adventure for tourists to enjoy.