I didn't know the full form of TCL until I attended their recent mega launch event. The Creative Life – what a deep and meaningful name of an organization. It's like putting the vision and mission of the organization in its name so that it automatically sparks in the mind and heart of its employees and partners to crave for it throughout. And as a customer, you get a lot of intellectual and motivational support besides savoring this organization's excellently designed products.
The event was all about their great journey so far and their upcoming smart home solutions. While TCL sells offline through physical retail stores, its online arm is iFFALCON. The journey of TCL began in 1981 as a local joint venture in China. As of today, it is having a business in 160 countries across the globe.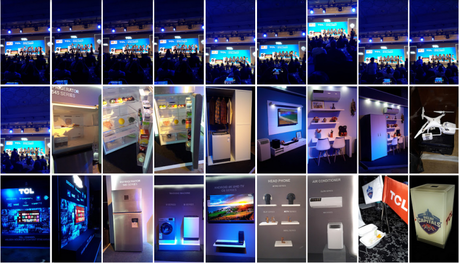 TCL – The Creative Life is number 2 in the smart TV segment in the United States. And is number 3 in the overall TV market in the US. TCL smart home solutions is a journey of connected devices with a focus on improving every individual's life on this earth. The key components of its business are innovation, quality, and trust. Harry Wu, General Manager Overseas Business Group, Smart Device Business Group, TCL informed TCL is number 1 in China TV industry.
The organization surpassed Sony in 2013 to number 2. Globally it is number 3. It has 1436% YoY sales volume in India. Look at the huge potential Indian markets have. Currently, the company is number 3 in Europe, number 1 in the U.S., and number 5 in India. Globally it is among top 2 in 32″, 43″, 55″, 65″, and 74″.
The Creative Life #MyHomeMyTCL
The TCL devices are the frontrunner in adopting latest technologies like AI, IoT, 5G, 8K and so on. TCL – The Creative Life is more than just TVs. It aims towards smart & healthy life through connected devices. In India, TCL started its operations in 2016. It was a real gamechanger. This year it's the official sponsor of Delhi Capitals in IPL 2019. Mike Chen, Country Manager, TCL India emphasized on TCL's aim of making life intelligent.
Sebastian Dong, Marketing Director, TCL India talked about their journey from HD to Full HD to UHD 4K. That brings stunning picture quality. The TVs have HDR Pro, WCG, and Sports Mode. Onkyo speakers have are among the world's best speakers. There are 4 Onkyo speakers in the front. The quality steps further high with DTS and Dolby Audio. The model with Android TV with OK Google is an extreme experience.
As of now, The Creative Life Android TV has 950,000+ hours of content that keeps scaling up in terms of volume and quality on an everyday basis. For India, TCL has 8 local content partners. That is besides YouTube and Netflix. Look at its astonishing technical configuration. Quad core CPU, dual core GPU, 64-bit, 2.5 GB DDR, 16 GB Flash, and full screen are a few to raise the bars of your curiosity to get into more depth of its features.
Model C6 comes in two sizes 55″ and 65″. It brings AI and Cinema at Home. It's 7.7 mm ultra slim. P8M is 85″. It's in fact beyond bigger. It's, as a matter of fact, is a TV wall and not merely a TV. The prices of C6 series are INR 89,990 for 65C6 and INR 59,990 for 55C6. 85P8M comes with a price tag of INR 199,990.
The Creative Life #MyHomeMyTCL

Christina Cai, Sales Director, Air Conditioners of TCL The Creative Life explained how sales crossed 10+ million in 20 years from 1999 to 2019. In 2012 the company was at number 12 in this segment and has reached to number 3 in 2019. That is a phenomenal growth indeed. As of now, it's 15 million per year sales. The slogan that TCL headphones carry is Be Inspired, Be Energized. TCL emerged as a disruptor in the smart television market now aims to achieve Incredible Smart Life for their Indian consumers with the launch of an exciting range of intelligent home products.
These innovative offerings include ACs, refrigerators, washing machines, sound bars & audio solutions, and so on. With this, it also launches its award-winning C6 and P8 series in India. The 8 local content partners include Eros Now, ZEE5, Jio Cinema, Voot, Hungama Play, ALTBalaji, Hotstar, and YuppTV.
It was good to see IPL's Delhi Capitals' cricketing stars Shreyas Iyer, Shikhar Dhawan, Kagiso Rabada, Chris Morris, and lanky Ishant Sharma at the event. Overall, TCL The Creative Life has a lot in store to bring into everybody's life to make it smarter and more meaningful.
TCL India Country Manager Mr. Mike Chen, says, "India is home to a growing number of tech-savvy and digital users that demand more from the products that they use. Driven to make life intelligent through our products ranges, we are going to launch a range of innovative and affordable home appliances for our Indian consumers. At TCL, it has been our endeavour to follow an India-first approach, as reflected in our brand promotion strategy or the launch of our first-ever factory plant in India. We are affirmative that our latest range of products will resonate with the mature sensibilities of Indian users, providing them with smart home appliances that easily integrate the latest advancements in the field of artificial intelligence, Internet of Things, amongst others."