So I haven't blogged in a long, long time but my self-enforced expedition on myself made sure I write this travelogue.
Let me tell you how I landed up where I am currently writing this- an empty bus I am seated on from the past one hour.
It was a long weekend and I was tired of the  idea of visiting beaches or metros on unplanned weekends. So a week back, I decided to visit this place called Pyramid Valley which I found on a listicle suggesting weekend getaways from Bangalore.
The twist in my plan was that I will land up there by taking public transport and figuring out my way as I go.
I was eager to breathe in the dust-filled air while traveling on a public transport without worrying much about the time taken while traveling.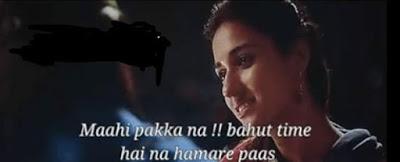 Me to myself: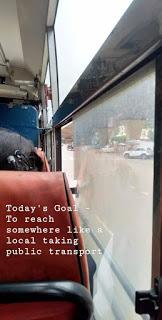 I was supposed to start early in the morning because of the timings at Pyramid Valley (9am to 6pm).
But I woke up at 9.30am and left my house only at about noon. So I packed clothes for a one-night stay at the place.
Leaving from home was simple. I googled the route to the place. They advised to take the bus with number KBS 5H from Majestic or MKT 5H from K R Market to Kebbedoddi.
So I walked till the bus stop and found the bus that would go to Majestic with the help of a Pan Shop vendor.
Only 20 bucks took me to Majestic in an hour's time or so and I was so proud of myself until that moment.
Majestic is a pretty organized bus station with the platforms mentioning all the buses that leave from there.
Except that I almost checked every platform twice but couldn't find the words "KBS 5H".
As per Google the bus would leave at 3pm. I asked the bus conductors there but no one could tell me which platform to go to.
So I relied on Google and waited till 3:01pm (because I just needed one minute past the suggested time to alter my decision).
I tried to find a cab that can take me there without charging me a lot of money. Finally one cab agreed by 3.15pm to drop me at my destination for 900 rupees. I sit on the car and in front of  was a bus named MKT 5H leaving the station while releasing a lot of polluted smoke.
It was too late for me to rush to the bus or to figure out what happened.
As per Google, MKT would leave from KR Market and KBS from Majestic.
Also, when I read the boards on the platforms I looked for both the words 'KBS' and 'MKT' focusing on '5H', but couldn't find either. Let me know in case you know what I missed.
So yes, I completed the rest of my journey in a cab. Not on a cab booked through an app because that would charge me 3000ish since it would be considered outstation.
From the main road at Harohalli, it is about 1.5km to Pyramid Valley's gate.
By the time I reached the place it was already 5pm and too crowded to book a single room. So I nodded my head to stay in the ladies' dormitory.
They charged me a total of 150 rupees only with free lunch and dinner. I knew the best of the rooms cost only 1500 rupees but I had no clue that the dormitory would cost only one-tenth of it.
Also, they expect us to check-out in twenty four hours and not 11am like the hotels and resorts.
I can't count how much money I have spent on resorts and have had a bad experience with the room or hygiene or food or something else.
They charged another 150 rupees as security deposit to be returned when I checked out. The receptionists were so welcoming, I almost felt like disappointing them with my short stay. If I had brought more clothes I wouldn't have hesitated to stay another day.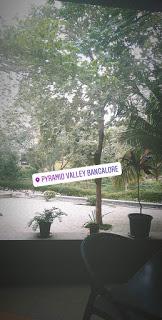 Beautiful hills surrounded this well-maintained place with well-built roads and the buildings were made of red bricks that reminded me of my Alma mater, MDI Gurgaon.
I walked to the dormitory and didn't find a locker so I carried my bag along to check out the place before sunset.
I am a lover of quiet cafes so the first thing I did was get a cup of tea in the cafeteria from where the top of the pyramid was visible. The cafe had a peaceful ambiance and was again very well maintained with the correct amount of staff to handle the crowd in correct response-time. The food wasn't great but the tea was.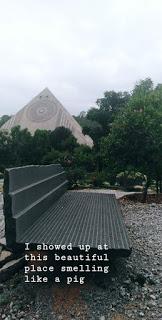 It was only when I walked uphill, away from the cafeteria, could I view the pyramid fully with two exhaust fans running clockwise. Words can't express how clean and serene this place was. I am stressing on this fact because I had just recently paid 5000 for a night-stay at a resort which had paper cups and plates lying all around the green fields it had.
This place was pleasing to the eyes, with small lakes, fountains, wooden bridges and well-groomed gardens.
I went inside the gigantic Pyramid to find a huge hall with chairs placed in rows facing the center. There existed a King's Chamber at one-third the height of the structure. One is advised to only enter it after half an hour of meditation.
So I did my bit before climbing the spiral staircase up to the Chamber. It wasn't a chamber but a circular gallery where seats were laid out for meditation.
When I finished meditating it was 7.20, which meant time for free dinner.
I thank my fate that I wasn't hungry, not because it was a simple meal but it was way too spicy for my palates. Rice, Sambhar,a vegetable sabzi and buttermilk is a healthy meal but I am not used to the spices. I look around and almost everyone seemed to be speaking Kannada and having the meal without wasting it. I made sure I eat what I took. It would be disrespectful to waste food; it always is.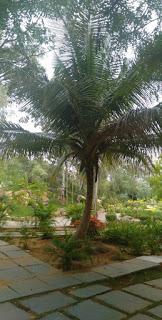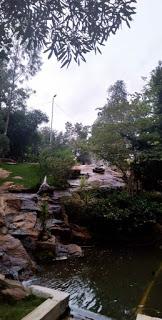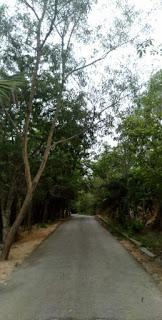 Post dinner I walked further to reach Aya - starlight accommodations. Such accommodations would have easily costed us some 8000 bucks if it were a touristy location and a resort. I was thrilled by how affordable things can be.
At night I returned to the dormitory with tired calves and exhausted feet.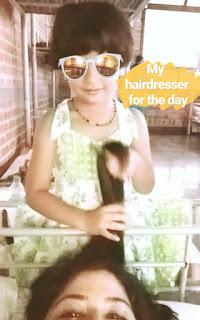 I met a pair of siblings, the elder one was 10 year old and her younger sister was 5. It reminded me of my own childhood- how the younger one is always taken care of by the mother or the elder one, how the elder one starts acting more than her actual age because of the self-added responsibility of a younger sibling, how the younger one's only job is to look cute and goof around while the older one probably carries the world on her shoulder.
I made sure I was pampering both the kids and not just the younger one which typically happens, but the older one would actually prefer to talk like a grown-up. If I had my way I would want all the kids in the world to be just like kids- carefree and having fun.  There's enough responsibility to be taken later in the world.
I asked the younger one what she wants to be when she grows up. And she said, " I don't like many things. I just like to paint."
I wish I had that kind of clarity about my own preferences.
That night a couple of women just won't stop fighting with each other in Kannada while the others weren't saying anything. It was past 10.30pm and I had some clue what they were fighting about- the light switch (I later found out I was wrong and it was the door lock they were fighting about). So I announced a new rule in the house- "there's a 100 rupee fine if you speak after 10.30pm".
Worked like a charm! I am so thankful that it was a spiritual place and not a religious place otherwise I would have been a sinner for lying like that.
The next day everyone was about to attend a session of Musical meditation at the pyramid at 12.30pm. I would join them but I was intrigued by a small single-story concrete building called Meditation Lab, standing just near the dormitory.. The wannabe neuro-scientist in me got all excited so I walked in.
They first showed me an introductory video (because no one has the patience to explain everything to everyone 😅) about all the services available there.
There was one i-Float service making you experience zero gravity worth 2000 INR and many others worth 500 INR. If I take three services worth 500 INR they will just charge me 1000 INR.
I knew I didn't have all day since I had to leave the place before sunset (because that's my idea of safety for a single woman traveling in a village away from the city 🤐)
So I took three small packages for an hour and a half, out of which one interested me the most, called HRV Test, and the others were its sidekicks. I decided to take i-Float the next time I come to this place.
There was also a service called Brain Tap where they make you listen to positive affirmations but I was too apprehensive to go with it. I don't want unknown content to have control on my subconscious mind.
Anyway, I first took the Foot Detox where you dip your feet in salted warm water along with a small ionizing machine that is supposed to remove the negative ions from your body. After thirty minutes the color of the water would change and you can refer to a chart to find what it represents.
It almost looked like poop-water to me till the lab guys came and explained that the water had layers of green, orange and brown for me. They also explained to me that since there was no oil-film or whitish liquid it meant I am not fat. The kind old lady who was the receptionist there, then started telling me how I think I am fat but I am not fat, that I should try to be healthy rather than just slim. Well, I don't remember telling her even once that I thought I was fat or that I was here to detox my body off its fats.
The next thing I did was the most interesting part of the lab for me - The Infra HRV test. HRV= Heart-rate variability. I remember going to an Ayurvedic doctor once who touched my pulse and declared I was facing issue with my periods, which I was. This test machine works on a similar principle except that it tries to give a holistic picture and not just physical issues.
They put two electrodes measuring my pulse while I meditate for five minutes. I ended up just closing my eyes and breathing normally and thinking this and that, like I normally do.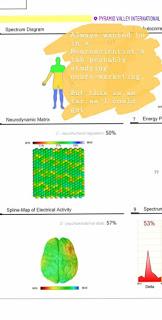 The results were good.  Apparently I have good metabolism, most of my chakras are well functioning except the third-eye chakra responsible for nose, eyes and spine ( I have sinusitis). My psycho-emotional state looks good which is a relief, my energy dips before 10am and is the most active after 6pm, which wasn't surprising.
Delta waves were active in my brain which means I was not alert about my surroundings and was relaxing.. My energy equation seemed good and so did my aura. They mailed me my reports so that I can refer to them later too.In short, I don't have all the problems in the world. In case something's off, people are advised to take Brain Tap. I was not.So I took the energy reflexology and enjoyed half an hour of vibration through the acupressure points in the machine.
It was already 1.30pm by the time I left the lab. So, I had my lunch and did some meditation in the King's Chamber which made me feel so sleepy I had to go back to the dormitory to avoid falling asleep on the people sitting near me. (I am bad at this meditation thing).
I understand that I have to visit this place another time because of the experiences I missed out on or was not ready for. The next time I come here I will come for two nights'  stay and would insist that I get a single peaceful room.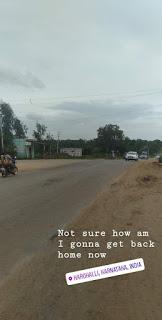 I return to the main road via an auto that charged me 50 rupees. The receptionists and security guards keep the phone numbers handy.
I wait at the bus stop for quite some time when one finally arrives. It's not going to Majestic but to Banashankari but that too is in the city from where I can easily get a cab if things seem difficult. They charge me 25 and additional 10 rupees just because I was too lazy to give them change of a hundred rupee note.
Then happens the biggest mistake of my life, well...not life, but week... Umm.. okay, biggest mistake of my day.I get down from this bus at Banashankari and just hop on the next bus available which was going to Hebbal without racking my brains much.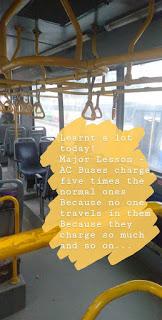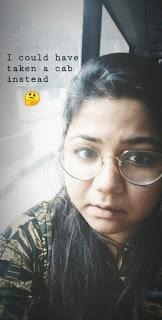 This was now an AC bus that charged me 90 bucks and I knew I still had to take another auto from Hebbal to where I live which would charge me more than a hundred.
It didn't matter then that I got a nice seat till the point I realized I wasn't at Hebbal even after an hour.
The bus was actually traversing round the entire city. I could have taken a cab instead. I should have taken a cab instead.
When I reach home it'd be past eight o clock in the night.
P.S.My biggest confidence-booster from this trip was that I can still manage to travel on public buses safely. It's an important skill to have otherwise what would you if you turn broke someday? :-PThe other big takeaway was that life's not as expensive as we make it.
But I have to take a trip to Pyramid Valley again.. The Lab keeps calling me.