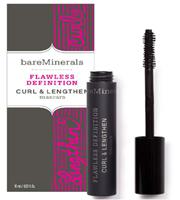 Do you suffer from eye envy?  Do you dream of long, wispy eyelashes?  Do you wish your lashes fluttered with every blink of your eyes?  Do you ever wonder if somehow your eyelashes have "made like a turtle" and retracted into your eyelids?
If any of those apply to you then let me introduce you to Bare Minerals Flawless Definition Curl & Lengthen Mascara!
I am blessed (or cursed) with big eyes.  On the positive side, they can be considered puppy dog eyes or doe eyes.  On the negative side, they aren't always easy to work with when it comes to makeup.  Worse yet, I don't have great eyelashes.  In fact, I would say my eyelashes are pretty sparse and uncooperative.  I've been tempted to just wear false lashes but ... (1) My eyes are incredibly sensitive to everything from light to the very contacts I wear and (2) I am not, nor will I most likely ever be, a morning person so I don't usually have even a few extra minutes to apply them.  My lashes are unruly and with said sensitivity, to even consider drawing near to my eyes with a cold, metal eyelash curler makes them tear up.  Can anyone out there relate?
Thank Heavens for the genius of Bare Minerals!  They've offered up yet another fabulous solution for eyelash envy.   Their Flawless Definition Curl & Lengthen Mascara does just that!  My faith in Bare Minerals led me to give it a try even though I couldn't imagine a mascara that would actually curl eyelashes without a torturous curling device.  This mascara does exactly what it promises!  Two coats of this magic and my eyelashes were bending back toward my eyelids like a sapling in a windstorm.  My lashes were longer and wispier; dare I say a bit more captivating.
Fluttering lashes here and here.