My apologies that Flat Martini hasn't been visiting us on the blog recently. He's done ALOT of drinking these past few months and it was time to give him some much needed rest. And maybe a few days in rehab.
But he's slowly entering back into the world and his first trip back was not an easy one. He had to go back-to-school shopping with children. The poor, poor guy.
But at least he got to do it with Susanne Kerns from The Dusty Parachute. An awesome blogger who make any situation – even a trip to the mall- entertaining. Go check out her blog and tell her I said hi! You can also find her on Facebook & Twitter.
Without further ado, here's our little cocktail of love's latest adventure…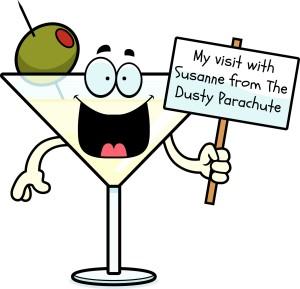 After ten years of getting away with acquiring the kids' clothes primarily through hand me downs or from our neighborhood Facebook Garage Sale page, my daughter finally asked if this year we could go Back to School shopping for 'new' clothes in 'real' stores.
When I told "Flat Martini" he was coming Back to School shopping with us, he was not at all happy.
He was all, "Hey, why didn't you invite me to hang out with you last week when you were in Colorado hiking and taking awesome gondola rides?"
And I was all, "Zip it and get in the minivan, Flattini. We're going to the mall!"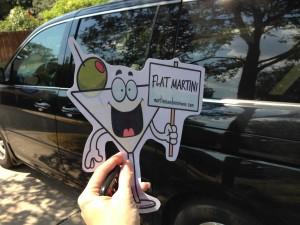 Although it was unfortunate timing for Flat Martini, it was perfect timing for me. If there's anything that makes me want an adult beverage, it's going shopping, especially back to school shopping with two kids in tow. I was more than happy to have Flat Martini along to help take the edge off.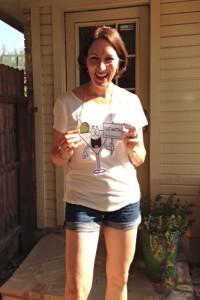 By some miracle, we completed 95% of our Back to School shopping at the FIRST store.  They even had the 5yo's one requested item: a Star Wars backpack!  Instead of needing a sip of Flat Martini, I brought him out to 'cheers' our great success.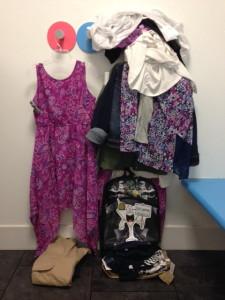 However, I did need a little Flat Martini after spending five minutes explaining  to the 10yo why she couldn't get a black, pleather skirt. It was almost as fun as the conversation we had when she was in the first grade and tried to go to school with her knee socks pulled over her knees Britney Spears style.  "But mom, how is it inappropriate if it actually covers MORE skin this way?"
(Damn you, Britney.)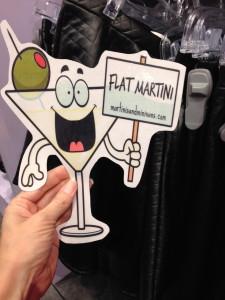 With 95% of our shopping done in the first 30 minutes, I naively though we were in the clear.  That's when I remembered that the shoe store was on the other side of the mall which required us to pass several children temptation landmines: Build a Bear, The Lego Store, The Apple Store & the food court.
First up: The Build a Bear Store. Even the 'growing out of toys' 10 year old goes completely ape sh*t crazy at slightest glance of the Build a Bear display window. It must serve as an emotional trigger of all the other times she has kissed a little wish heart and shoved it in their little disemboweled (pre-emboweled?) fuzzy carcasses.  It also didn't help that they now have an entire Star Wars line which resulted in me frequently shouting, "your stuffed monkey doesn't need a $12 light saber!"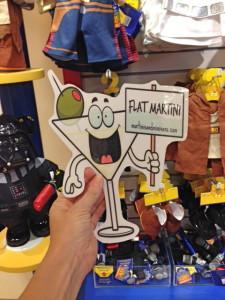 Our next obstacle was The Lego Store. The 5yo and I spent four solid weeks this summer (I'm talking 8 hours days) in what I affectionately named, "Lord Business Lego Camp" where we reassembled 24 Lego sets which had been mixed in with 20 pounds of bulk Legos. You would think the kid would never want to see another Lego as long as he lived but this exercise somehow managed to only fuel the Lego addiction.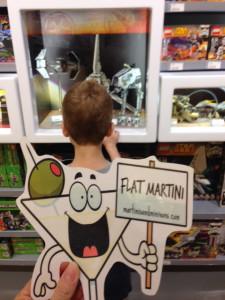 I was actually grateful that the gravitational pull of the Apple Store lured the kids in since two weeks ago I went to the mall to pick up my repaired phone by myself and completely forgot to get it. Their kids area came in handy for the 10 minutes it took my phone to restore itself from 'the cloud' but I definitely needed a martini after the 10 minutes it took me to get the kids back out of the store, ("I just need to finish this one level……")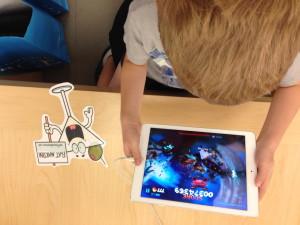 After all that, we never did manage to find any shoes at the mall that day, except of course this adorable, yet "there's no way in hell you're getting a pair of $75 shoes" pair that the 10yo begged for.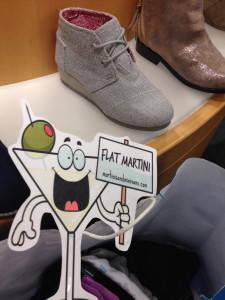 Shoes or no shoes, we had had a pretty successful day and decided to reward ourselves with one of the only reasons I ever go to the mall: Annie's Pretzels!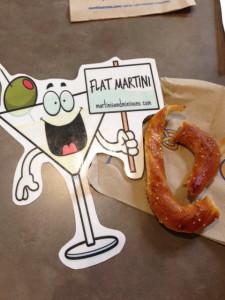 And of course, the ultimate Back to School shopping reward: My weekly Maudie's margarita later that night. (I even shared a little.)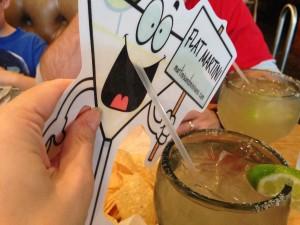 Goodbye, Flat Martini! And thanks for making our Back to School shopping trip so much fun. Are you available in November?  I could use some help with Christmas shopping!