These adventures of Flat Martini just keep getting more and more hilarious! And I had no doubt that Leigh-Mary Hoffman would seriously bring it. How did I know that? Because she had the locker next to mine all four years of high school and kept me laughing the entire time. These days, she's the awesome blogger behind the great blog Happily Ever Laughter Blog. And let me tell you – you NEED to go check it out. She's a mom to a blended family of 5 kids and writes about the hilarity of living with so many people, her diagnosis of MS, and her amazing daughter being on the autism spectrum. And she does it all with the most amazing sense of humor you have ever met. She's a good egg this one.
So check out her blog Happily Ever Laughter Blog and say hi to her on Facebook, and Twitter. And what's awesome is that she is in a new book that is perfect for me! Martinis & Motherhood: Tales of Wonder, Woe & WTF?!  The book pairs up thirty-seven tales of motherhood with customized martini recipes inspired by the stories themselves. How cool is that??? 
Without further ado… here's Flat Martini's adventures with Leigh-Mary!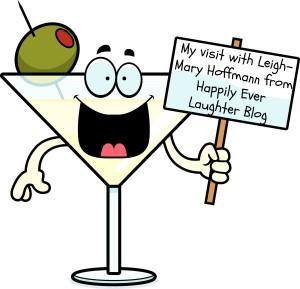 So this lady – some chatterbox over at Happily Ever Laughter Blog – decided it would be fun to take me on a visit to Manhattan. Always up for a good time, I enthusiastically obliged and hopped on the Long Island Railroad (LIRR) with Happily and her daughter, as I tagged along for their mother-daughter birthday weekend.
The plan was to walk around the city and, eventually, end up at Madame Tussauds wax museum. Can you imagine people thinking it is fun to pose with imaginary figures? Sounds pretty boring to me. By the way, does anyone want to get in a selfie with me?
So we are walking [well, they were walking…I was being carried like the prince that I am!] the streets, among the – what-seemed-like – millions of other people in NYC that day and guess who we ran into? A Naked Cowboy. Yeah, that's right. Apparently tourists love to take pictures with this bare-chested, hat wearing, guitar playing guy, so I went along with it. You should see what's behind that guitar. I think I may have to pick myself up a ukulele and find out if this dude wants a sidekick. What do y'all think?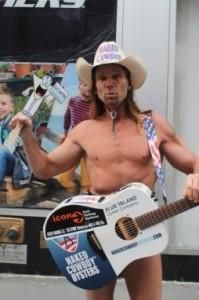 Next, we ran into Olaf. This pile of ice (reads: gross, germ-infested, cheap costume-wearing, still-lives-with-his-momma weirdo) told me he likes warm hugs. Hey freak, we just met … make like your girl Elsa and LET IT GO!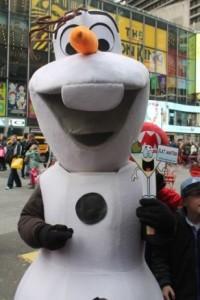 I wanted to go to Ellis Island and see the Statue of Liberty, but we couldn't make it happen this trip. Luckily, she found us. Gotta love Lady Liberty – God Bless the USA. (To be honest, I think this particular Lady Liberty was actually a dude – and not a very happy one.)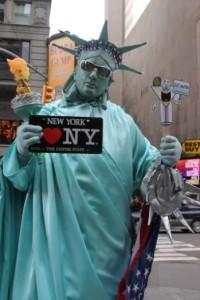 When I heard Happily say to her daughter that we were going to Disney, I was ready to head straight for the airport and fly to Florida. Space Mountain, here we come! Waaaaiiiiiittttt a minute, the Disney Store? What a gyp. Helllllllo….I'm lost among all these plushies!!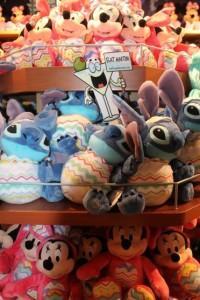 We went to our hotel room, and I must admit, Happily did good with this one. Comfy bed, lots of room and check out that view. Wait!!! Don't look down you're afraid of heights. Actually, if you'll excuse me, I think I may puke – I shouldn't have had that last olive.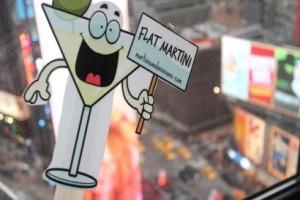 Once at the wax museum, we encountered lots of cool look-a-like wax figures. Yes, I admit, I was skeptical at first, but Happily was right, it was pretty neat. First we saw Miss Bette Midler. I was tempted to burst into song – "Did I ever tell you you're my hero?" – but singing in public is not my thing. I prefer to be a Cocktail Idol … if you know what I mean!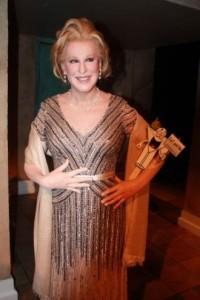 Next, we snapped some photos with a few of Hollywood's leading men.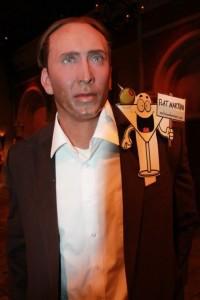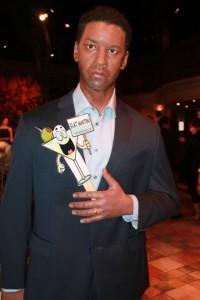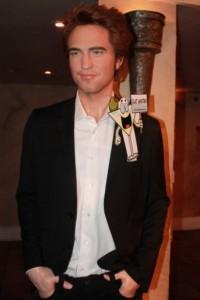 And then, I got in on this. Ummmmm…those boobs. Hummina, hummina, hummina.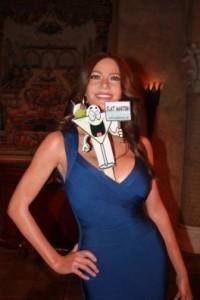 Happily admits that she loves singing along to this artist's cathcy tunes. No denying that Ms. Swift is uber talented. You don't agree? No? Well: "the haters gonna hate, hate, hate, hate, hate, hate." Don't be a hater – it's not cool!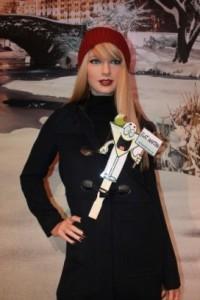 This next guy looked pissssssed. Maybe someone should get him a drink. Perhaps a martini?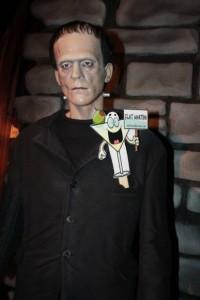 Hey Happily, can I borrow your cell? This, ummm, thing Must. Phone. Home.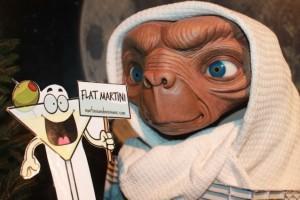 It was super awesome to snap a pic with the queen of all talk shows. I think I heard her say: "And YOU get a Flat Martini. And YOU get a Flat Martini. And YOU get a Flat Martini."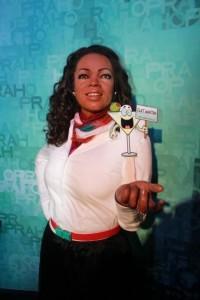 Is this sponge ALWAYS this happy? Happily totally admitted to me that she watches the show whenever the kids have it on. And even then they leave the room. Sing it with me…"Who lives in a pineapple under the sea?"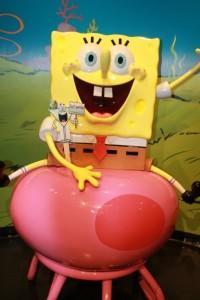 After the yellow square, it was all about the bass. I mean, the presidents.
"Most folks are as happy as they make up their minds to be." – Abraham Lincoln
True that, Abe!! (He's kinda smiling!)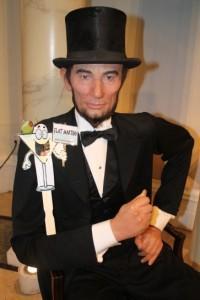 Hey, wasn't this guy an actor, too?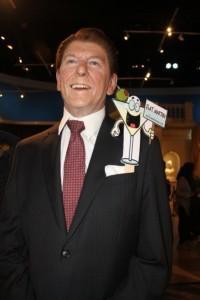 Guess he's not smiling because of that whole "not a crook" thing.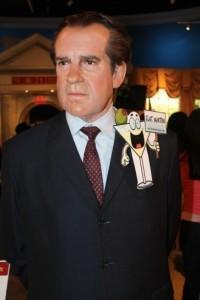 I can not tell a lie, dude looks like a(n) (ugly) lady.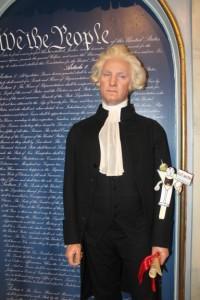 And then, the Pope. (Repeat to self: do not make inappropriate jokes. Do not make inappropriate jokes.)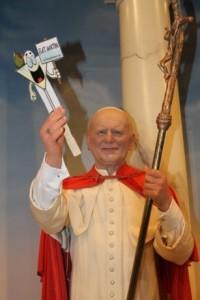 I don't know what she meant, but when we got to this guy, Happily just kept repeating: Bueller? Bueller? Bueller?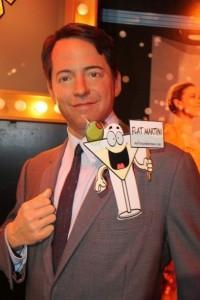 Thinking about naming us: "The Fab Five."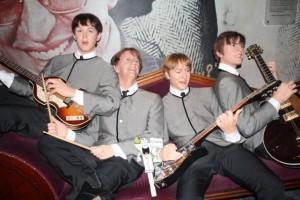 And last, but certainly not least, Mr. Robin Williams. RIP funny man.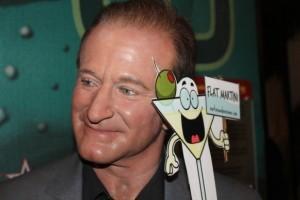 We did a few other things in NYC, but the highlight of the trip were the hundreds of people starring at Happily with a WTF?-look-in-their-eyes as she held up the line Every. Single. Time. to take pictures of me with the wax figures.
Since returning home to Long Island, Happily has tucked me away in her desk but has promised me that the next time Bette Midler comes on the radio, she will take me out of the drawer and we can sing together as she pours herself a martini.
Cheers, my friends.
P.S. – if you see a cheap ukulele, can you pick it up for me? I won't even ask for a tip when me and the Naked Cowboy sandwich you in a selfie! : )