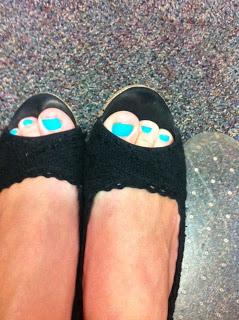 It's Monday?? I've been on autopilot for three days trying to make it through the weekend. Since I took a week off from school right before finals I came home to three assignments due TODAY. I sent out Mori for Starbucks runs and he lovingly filled our pantries with food for the week. In turn I cranked out three tax papers in two days. Yep this girl is a beast.The hardest part of all was wrapping up papers AND babying the new kitten we got on Saturday. More to come on him in another post though. With the new cat, final exams next week, Seester #1 coming up from Texas this weekend, wedding planning, and OH that 40 hours a week job that pays for us to get from day to day- I am overwhelmed! For example, I was so busy this weekend I wasn't able to pick up women's deodorant so I just used Mori's. It is so strong that I feel light-headed right now. Gross.

As a treat I decided to splurge on a much needed pedicure. Love the bright colors for summer and they look so nice against the stain-hiding office carpet, no?


Florida Day #2 UNIVERSAL STUDIOSBack in January, Mori and I stayed at the Riverside resort in Disney, so we decided not to leave in order to go to Universal Studios. Big mistake now that I know how awesome Universal Studios can be for adults. My siblings and I had a blast in Harry Potter world. It was a little too small of a park, but I've heard that they are going to expand it. Butterbeer tastes like thick cream soda, and the Hogshead was pretty good over at the Three Broomsticks. I would recommend drinking the frozen Butterbeer because the cold one was too heavy for me to drink in that heat. My siblings and I were being huge nerds making Harry Potter references all around the park. Seester #2 (16 year old) asked if there were unicorns in Harry Potter. How to hell has she never read the books?? Oh yes, my stepdad doesn't think a woman should shave her legs until she's married and told me how I was the anti-Christ for reading those books. Duh. Maybe I'll get them for her as a graduation gift. A child of the 21st century should not go their life without reading HP.