Last bank holiday, my partner and I were looking for interesting date ideas in Manchester. As I'm trying to lose weight at the moment (and doing rather well actually!). Rather than sabotage my hard work by hanging around in bars, drinking all day, we went for something totally different! Baseball… which is weird because neither of us is even remotely sporty. We just thought it would be fun to hang out in a cage and whack some balls! Ouch… teehee!
Baseball… In Manchester?
Baseball is a sport we tend to associate with America. They love it over there! Over here in the UK, it's not really heard of all that much. The game we play over here tends to be rounders… or so I thought. Having researched the subject a little more, I discovered that Manchester Baseball Club has been in the professional league since 1936! Well, they certainly kept that quiet!
I came across a special offer for BASE MCR. A new(ish) baseball bar in Manchester – they opened in 2017. The offer was 50% off cages so they cost £12.50 for half an hour. I didn't think that was a bad price for something I've never tried before and might well be absolutely rubbish at! So, I decided to give it a go.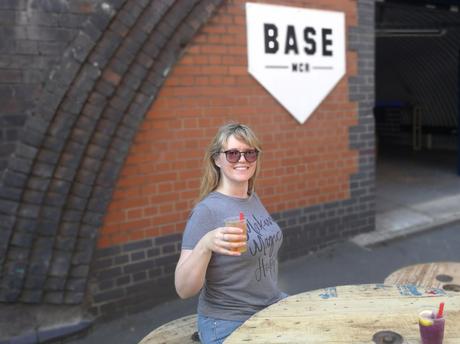 Pre-baseball drinks at BASE MCR
" data-orig-size="3503,2624" sizes="(max-width: 1080px) 100vw, 1080px" data-image-title="BASE MCR" data-orig-file="https://i2.wp.com/www.whatrachdidnext.co.uk/wp-content/uploads/2018/06/IMG_20180604_092725.jpg?fit=3503%2C2624" aperture="aperture" />Pre-batting cocktails at BASE MCR. Please excuse the fringe. It was a gorgeous sunny day but man, it was windy!
How It Works
It is advisable to book online as there are only three cages. The price is per cage so you can go on your own if you just want to practice or share it with a group of friends. There is a maximum of 5 people allowed per cage and slots are booked in block of 30 minutes. During that time you'll get about 4 to 5 rounds of 12 balls fired at you. I think we actually managed 6. It depends on how efficient you are at gathering up the balls, reloading the machine and swapping your gear over. Safety gear is provided and there is a range of baseball bats to choose from in each cage, depending on your size and ability.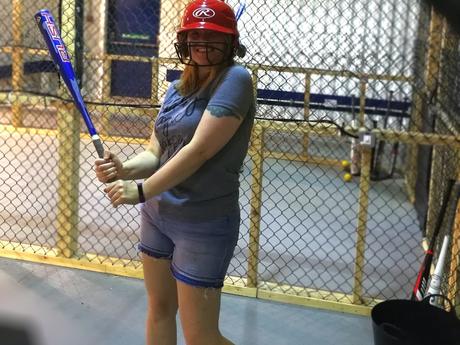 Helmet on, bat in hand… let's do this!
We were advised to arrive 30 minutes early for a safety briefing and to fill in some paperwork. This also allowed time for a few pre-batting cocktails. We arrived at happy hour which was perfect timing! We tried a Gin and Juice cocktail which was very fruity and a Fruit Salad which actually tasted exactly like Fruit Salad sweets!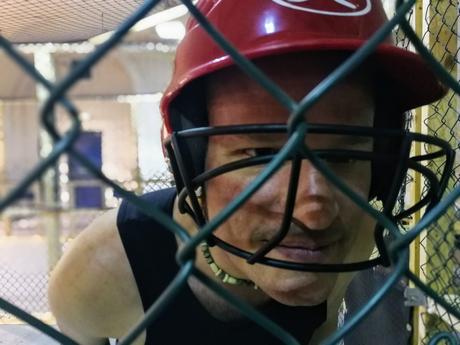 Baseball Paul… who knew he was so competitive?!
" data-orig-size="3968,2976" sizes="(max-width: 1080px) 100vw, 1080px" data-image-title="Baseball Paul" data-orig-file="https://i2.wp.com/www.whatrachdidnext.co.uk/wp-content/uploads/2018/06/IMG_20180528_173338.jpg?fit=3968%2C2976" height="810" width="1080" data-medium-file="https://i2.wp.com/www.whatrachdidnext.co.uk/wp-content/uploads/2018/06/IMG_20180528_173338.jpg?fit=300%2C225" data-permalink="http://www.whatrachdidnext.co.uk/2018/06/04/fun-and-games-in-a-baseball-cage/edf-10/" aperture="aperture" />Instant alpha male – just add baseball helmet!
How Much Fun Is It?
Absolutely loads! I went with my boyfriend who became fiercely competitive the moment he put his helmet on. Although he didn't need to be, I was, as I feared, absolutely rubbish! The scoring system works like this; you get one point for hitting the ball forwards and as you can see for hitting the back wall. 10 points can be scored for hitting that cymbal you can see hanging up at the back. We actually gave up trying to score anything at all quite quickly. Instead, we concentrated on trying to just hit the balls. It's harder than you might think but still loads of fun despite that.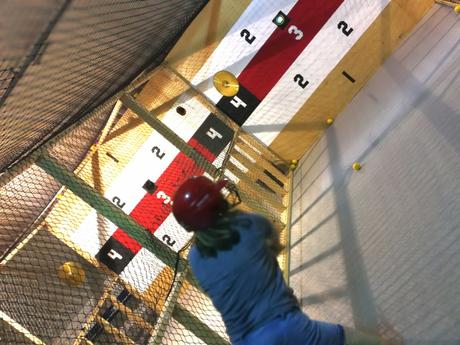 Rach giving it all she's got in the batting cage
Would I Do It Again?
Yes, absolutely! I might want to have a bit of a practice at the park first though. Trying to hit a ball that's flying towards you at 35mph whilst you have a cage around your head is very difficult. Particularly if you've never done it before. I think it's the most fun date I've ever had though, I'd highly recommend it! Once we've practised a bit, I'd love to go back with a few friends and book the cage for longer. Half an hour is the perfect length of time to book if you're totally new to baseball. If there's more than two of you or if you really want to get into the swing of it, you might want to book the cage for longer. They do take bookings for parties and you can even hire the whole place out!
Have you been to BASE MCR? What was your experience? Did you knock it out of the park or did you not even make it to first base? Get in touch, let me know. I would love to hear your stories!
Rach x