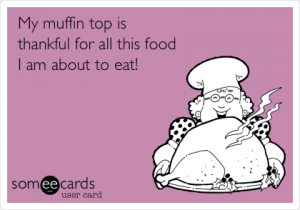 Photo from www.someecards.com
It's the week of Thanksgiving and I'm doing something I haven't done in almost two years. I'm taking a week off from blogging to spend some quality time with the fam. And by quality time, I mean eat my face off and undo my pants while grunting.  Ya know, the stuff every good Thanksgiving is made of.
Don't fret though – I'm still dosing out sarcasm via Facebook and Twitter – I mean, when you get a room full of New York Italians together, there is just too much material not to share with the online community.
Happy Thanksgiving friends. Thanks for being one of the things I'm very thankful for this year. Now go eat tons of food so I'm not the only one pushing my jeans over my muffin top next week…