To be honest, I am not a huge fan of dressing up for Halloween. I have a hard time thinking of a costume and instead of just picking one and being done, I stress over all the options and can never make a decision. It's a challenge and I always end up deciding to be nothing. This will be the 5th Halloween Vinnie and I have had together as a couple and we have never [I repeat... never] dressed up or celebrated together. Ridic, right!?
I believe we will do something this year; although, it is the day of, and we still don't have any ideas or real plans. For being a planner, I tend to fly by the seat of my pants in situations like this! Regardless of how I feel about finding a costume, I always love to carve pumpkins, roast pumpkin seeds and eat Halloween candy.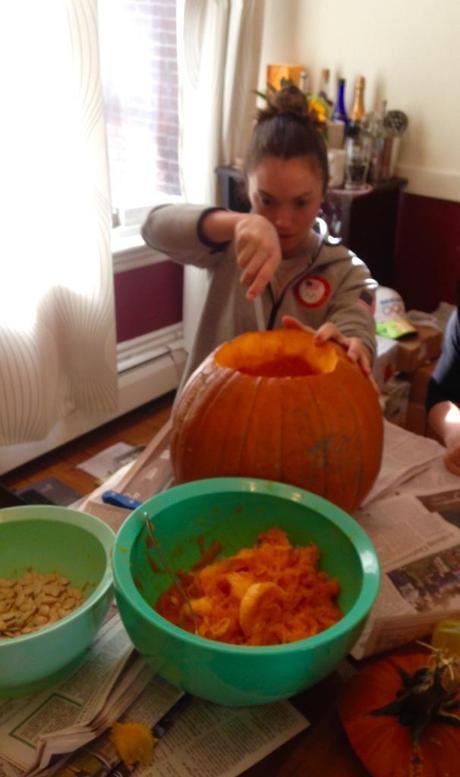 Anyway, another fun fact about me is I have a serious addiction to keeping up with celebrity news. I check People.com daily, which brings me to the purpose of this post.
Harley Pasternak frequents people as a contributor and provides great fitness and nutrition tips. His recent post was all about Halloween candy. He listed the sugar and calories for the 10 most popular treats. I had a general idea of the nutrition info on these candies, but I was still surprised by some, and it was a good reminder to enjoy Halloween treats, but be mindful at the same time.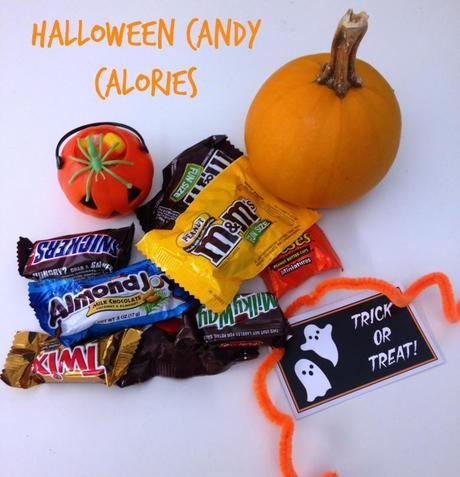 I chose my top 5 from his list and I added a few more of my favorites:
Reese's Peanut Butter Cups
1 cup: 105 calories, 6.5g fat, 10.5g (=5 cubes) sugar
M&M's
1 Fun-Size pack of peanut: 90 calories, 5g fat, 9g (=4 cubes) sugar
1 Fun-Size pack of milk chocolate: 75 calories, 2.5g fat, 10g (=4.5 cubes) sugar
Snickers
1 Fun-Size bar: 80 calories, 4g fat, 9g (=4 cubes) sugar
2 Miniatures: 85 calories, 4g fat, 9g (=4 cubes) sugar
Hershey's
1 Milk Chocolate Snack Size bar: 65 calories, 3.5g fat, 7g (=3 cubes) sugar
2 Miniatures: 85 calories, 5g fat, 9 g (=4 cubes
Twix
1 Fun-Size bar: 125 calories, 7 grams of fat, 8.5 grams (=3.5 cubes) of sugar
While I LOVE chocolate, I am more of a gummy, sugary candy kind of girl so I added 3 more in that category:

Candy Corn my all-time favorite
19 pieces: 140 calories, 0g of fat, 3g of sugar
Dots:
1 mini box: 70 calories, 0g fat, 11g sugar
Skittles:
Fun Size: 61 calories, >1g fat, 11.4g sugar
The biggest thing I noticed was the snack size vs. miniatures. When given an option, I always grab for a miniature candy because I think it's better and healthier. But that always leads to at least 2-3 miniatures whereas if you just had one snack size you would be way better off. Also worth noting is the gummy/sugary candy has less calories and almost no fat, but equal amounts of sugar – so pretty much you are eating straight sugar, no real nutritional value there!

Since it is Halloween, I hope this information helps you be a little more mindful when reaching into the candy jar. It is perfectly ok to indulge and enjoy candy on this fun holiday, but don't let the mini versions of your favorite treats fool you, they still pack a major calorie and sugar punch!
Whats your favorite Halloween Candy?