Part I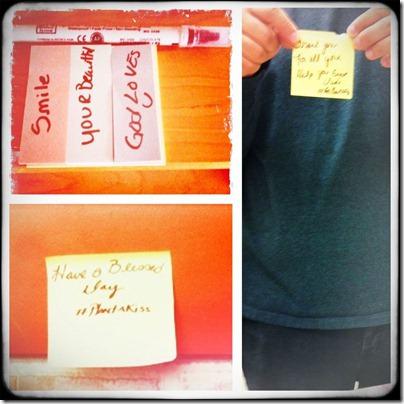 So often my heart has been good, and I know all the proper words
as I should. What  to write  on paper as I write a cheerful rhyme.
So what better way to share my time. Give a piece of myself in hopes to help someone feel better. Let everyone know that they are loved, beautiful and something great to help them weather the weather. I just want for people to know they have a purpose in life in general. To continue holding on to it and never let it go.
So, long have I wanted to share these words, but with a purpose I pray that they have served.  As I place post its  in many  random places, in hopes to have been seen by different faces.  ~Leah  Plant A Kiss
Hello everyone It's dVerse poets pub  Open link night-42 http://dversepoets.com/
A group of generous artist who spreads the hope for poets all around. giving us Courage to even write at all, so it's only fitting that I share a poem about Plant A Kiss project. Which, by the way  I'm  completing tomorrow by reading and sharing other's bloggers works. So until than feel free to read the poem before this one and get info for where to go read  and join in. they have prizes too.
Blessings and thank you family, friends and poets for giving me, me ~Leah