We've all seen that red and white place in the corner of the Great Hall at the Trafford Centre. You know, the one that looks a little bit like an expensive Mcdonalds… then they went and opened one in the Arndale Centre too. That means they must be doing pretty well right? Right, so I know I'm only about four years behind on this one but my curiosity got the better of me. I just couldn't help but need to find out what all the fuss is about Five Guys.
From the outside, Five Guys has that unmistakable red and white front, reminiscent of a 1950's American diner… Only they do it in a bang up to date style. It looks simple, clean and there is always a crowd waiting for food at the end of the counter. Which is a good sign in my book. Everything is freshly cooked to order, absolutely nothing left hanging around for a moment longer than necessary. Wait… I'm getting ahead of myself, I'll come back to that.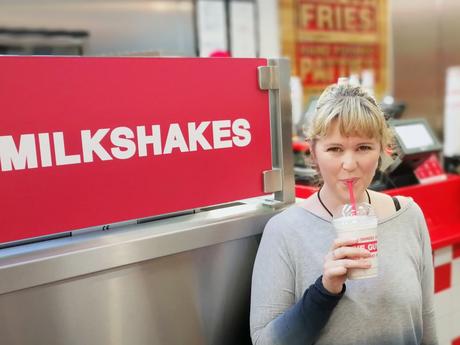 Five Guys milkshake… milkshake heaven!
" data-orig-size="2427,1822" sizes="(max-width: 1080px) 100vw, 1080px" data-image-title="Five Guys Milkshake" data-orig-file="https://i1.wp.com/www.whatrachdidnext.co.uk/wp-content/uploads/2018/06/IMG_20180603_020730-1.jpg?fit=2427%2C1822" height="811" aperture="aperture" />Ok so I know it's naughty but I had to have a sip of milkshake whilst waiting for my burger!
Isn't It Just Like An Expensive McDonalds?
Whaaaat?! No. Let me explain. When you arrive at the counter to place your order, the first thing you will notice is that the prices are slightly more expensive than most fast food restaurants outlets. Ignore that – it's not even in the same ballpark! The next thing you'll notice is that the Five Guys menu is not like most fast food chain menus. There are no Big Macs or Whoppers or other gimmicky names, you just ask for exactly… what… you want. But wait, what if they get it wrong? Quite simply, they don't. They have such an efficient system, that you only ever get exactly what you want, it's awesome!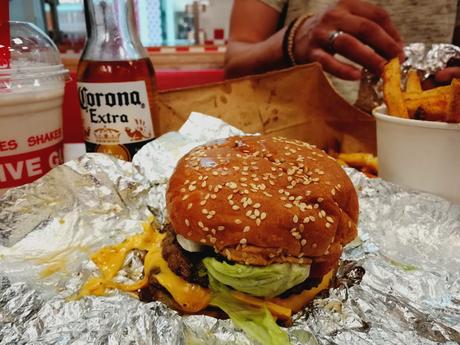 Unwrapping the Five Guys Burger… There's something about the texture of that foil!
What's On The Five Guys Menu?
Their menu is made up of big burgers, little burgers, hot dogs and pretty much any topping you might want on a burger. If it wouldn't make your burger amazing, it's not on the list. I'm not saying I like everything on there but I'm sure that most things on that menu would make someone's burger amazing! If you like the most popular toppings ask for 'all the way' to make everyone's life easy. You may order a side order of fries, plain or spicy… nice touch! You may also order a milkshake. The milkshake menu includes all the ingredients you would expect to see in your wildest milkshake dreams. Alternatively, you may have a beer (yes, beer) with your burger or an empty cup which you may fill yourself… As many times as you like from a machine which delivers pretty much any flavour of soda you can imagine!
So What Are Five Guys Burgers Actually Like?
I don't actually think I can express how good Five Guys burgers actually are without repeating what's already been said. The walls of their restaurants (yes, I can confidently say these are restaurant-quality burgers we're talking about here) are full of quotes saying just how good Five Guys burgers really are. Like I said, you have to wait for them… For quite a while sometimes but it doesn't matter, the wait is part of the experience. You get to watch your food being cooked… to… perfection. Seriously, watch them do it, it's mesmerising!
When you take your order,  the burgers are wrapped in a foil that has the most delightful texture to unwrap. Then when you bite into it… Oh my goodness… It's like burger heaven! The texture is perfect, the taste is delicious – and if it isn't, you only have yourself to blame. After all, you built the damn thing! The fries are exactly how you would imagine your perfect designer fries to be; hot, crisp on the outside, fluffy on the inside and oh so tasty! And the milkshakes… Awww man… the milkshakes just make you melt into a milkshake induced stupor. I would ordinarily go for something on the malty side of chocolate but this time chose vanilla and cherry and it didn't disappoint!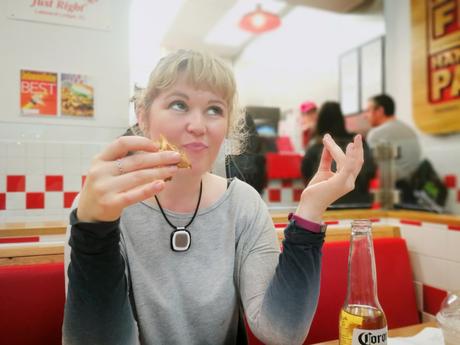 Burgerface!
Isn't It Just Junk Food?
Well, I suppose one man's junk is another man's treasure so that's up for debate. Whilst Five Guys couldn't exactly be described as the latest health food craze, if you're going to eat burgers, they're not actually that bad. The burgers are made from fresh beef, not frozen. You may have your burger bunless if you're practising no carbs before Marbs (and I'm sure it would still be amazing!). The salad and vegetables used in the toppings are really fresh and tasty. Portion sizes of the toppings are not at all skimpy so I'm sure there is at least one of your five a day on there if you're counting. On the downside, if you have allergies or you want halal meat, this is probably not the place for you. If you're veggie, your options are limited.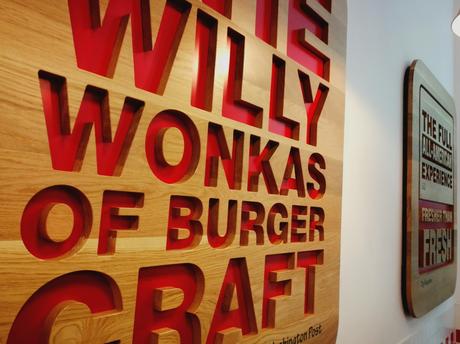 The quotes on the wall say it all!
Have you tried Five Guys? What did you think? Did you wait as long as I did to find out what all the fuss was about or were you first in line when they opened their doors in the UK? Please tell me about your experience, I'll never get tired of talking about how amazing Five Guys is! No really… it's true. Anyway… back to the healthy eating plan I'm supposed to be sticking to!
Rach x