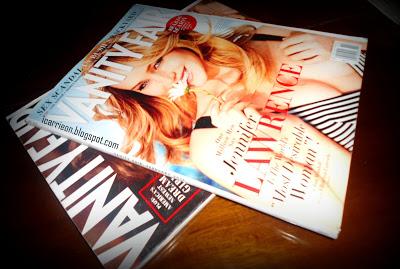 VF Apr 2013 with Jennifer Lawrence on the cover
It should come as no surprise since I probably mentioned for the nth time that I just love reading anything. Even more reason for me to rejoice is when I find a back issue of Vanity Fair with no less than Jennifer Lawrence on the cover. First of all, it's a real bargain at PHP 83.00 (roughly USD 2.00) from the original price of USD 5.00 and second of all, even if the monetary value is already diminished, the quality of the articles and the photos is very much worth treasuring. And above all, it's just very fun to read with it's humor and biting wit and even it's sarcasm.
So, on to JLaw (I made that up). We've seen her in The Hunger Games with her great portrayal as Katniss Everdeen 'The Girl On Fire'. Last year, she won the coveted Best Actress award in the Oscar's for her role in Silverlinings Playbook. With how much I adore her, I realized that I don't know anything else about her apart from those two facts I mentioned earlier. And prior to reading the article, I didn't get the chance to Wikipedia or Google her so I had no idea what she's like.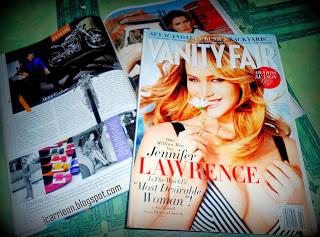 My most favorite magazine in the world!
To my surprise I found out that she's a very funny and down-to-earth girl who still has no idea as to how she got into this newfound fame and fortune. She got discovered while she was watching a streetdance in New York. A model scout took her photo, agents called back, she auditioned and
voila!
and we have our Mystique and Katniss. And she's only 23 which makes me so glad that a good actress like her would be around for so many more years to come. The Hunger Games has grossed over USD600 million dollars worlwide and the second installment Catching Fire's release is looming around the corner (I'm so excited to watch it btw!!!). She has an Oscar (her second nomination). What amazes me is how she's successful with both sides of the playing field : critical acclaim and commercial success. The bevy of young Hollywood stars we have today have difficulties in achieving such these days.
Well, how ever she does it, I'm just glad that she someone we can all look up to. Meanwhile, Catching Fire is coming on November. Who's thrilled?!!! :)
I surely am.
XO,
Carissa