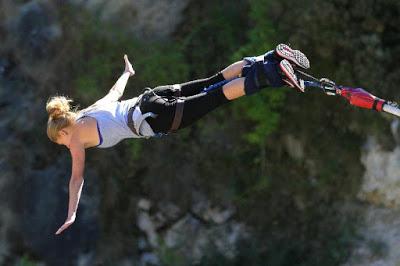 He said jump,
I said no.
He said jump,
I jumped.
He didn't. Just stayed back.
I was hanging upside down,
all alone.
Can't call it euphoric.
Panic started to grip
as I now could see the world
differently.
Wasn't this the moment
I should have been ecstatic?
I cried instead.
Realisation slowly dawned
Someone was pulling me up.
I hoped it was him,
I looked around.
This wasn't so bad.
I started to sing.
Finally, everything would be OK.
I reached on top.
There was no one there.
As I sat there confused,
I felt a severe pain in me.
My heart was being ripped out.
I had to save myself.
I jumped again.