......and been SHOPPING!!!!!!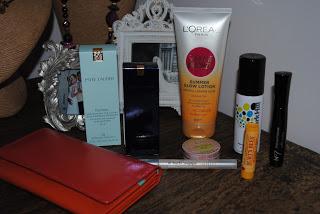 OK, ok, so in my defence, everything, (minus the new purse) was a much needed purchase, to replace things I had either used up or gone without. So I'm not foregoing all that I learnt from my 100 day spending ban  So there!
Lets start with the one purchase which was a 'splurge' rather than a necessity, my new purse.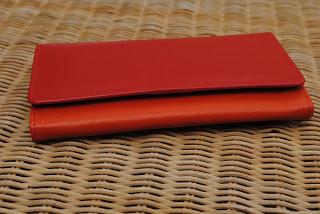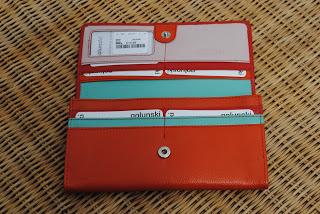 For an age now I have carted around a little Radley number, but it was all buckled out of shape from years of abuse cramming it to the brim with receipts, This Golunski number (have to admit a brand I had never heard of) I picked up in TKMaxx for £12.99. It has room for all the essentials (otherwise known as credit cards ;) ) and I love the fact it has a zip on the coin section, because we've all done it haven't we, 'fess up, there you are standing at a packed till and you go to get a note or card out and all the coinage slips out showering those around you, sound familiar? Yep thought so. I also love the two tone orange front and the snazzy turquoise lining.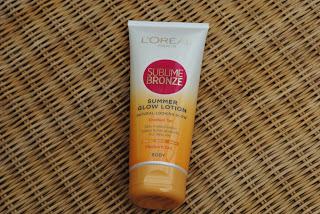 I thought it about time I did something about my abnormally pale pins and good job what with this heatwave we have been having! Normally I like to use the Garnier summer body gradual tanner, actually back up a bit; I LIKE to use St Tropez products but for a day to day use it's kinda pricey so I stick to something a little more affordable. Boots didn't have the Garnier product I use so in desperation I picked up the L'Oreal Sublime Bronze summer glow lotion gradual tan in medium tan. I have used the Sublime Bronze self-tanner in the past and found it too be pretty good, so I guessed their gradual tanner would be equally as good. Have to say it didn't disappoint. Very similar to the Garnier product in price and consistency and result. If I had to choose again between the two I think I would go for the Garnier one purely because I think the 'after smell' is nicer. Can't remember the exact cost of this but I know I got change from a fiver for 200ml of product.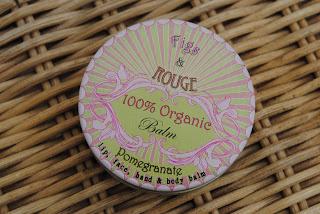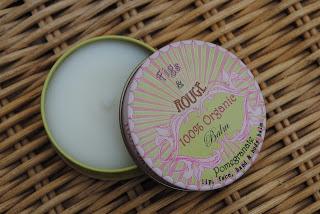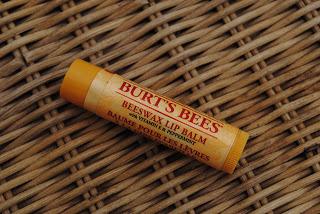 I did pick up two lip balms (I am the lip balm Queen). The Figs and Rouge number was on special offer for £2.50 for 17ml. I find I have a real dilemma with lip balms - I prefer the consistency and overall result from the ones in a pot but for hygiene reasons when out and about I like the stick varieties.But I always find the sticks a little 'draggy' on the lips. So Burt's Bees has gone in my handbag and Figs and Rouge is for my bedside table. I've used both products before. The Figs and Rouge is in pomegranate, it has a very gentle scent which you don't 'taste' once applied and the Burt's Bees is in Vitamin E & Peppermint and smells deliciously of after dinner mints!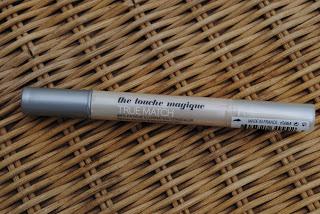 After exhausting the end of my last concealer I was in desperate need of a new one, but yet again my expensive tastes do not match my wallet at present! I love and swear by the results of YSL Touche Eclat and was looking for a drugstore dupe. Can't say I found it, but L'Oreal's True Match anti-fatigue illuminating concealer is a good substitue if you are watching the pennies. I got the shade ivory beige. I didn't notice much illuminating going on, but I have to say there was no clogging or creasing around my eye area. You have to blend this in fairly fast though as it does have a tendency to 'set' quickly. Sorry can't remember the price but I think it was around the £4.50-6.00 mark.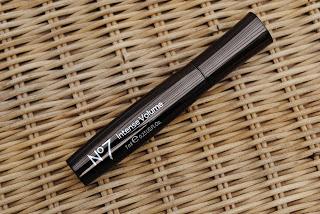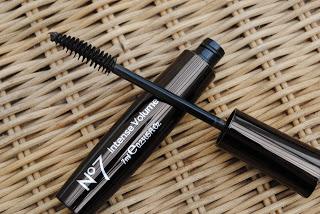 Someone please tell me when did 'drugstore' mascaras get to be so expensive?! I really like to wear brown or a brownish black and I really prefer what I would term a traditional brush, sick to death of stabbing myself in the eye with one of those rubber wands. (Not that stabbing myself in the eye with anything is top of my list). But trying to get a traditional brush in brown was hard going. Normally I wear Maybelline's Great Lash in brownish black but not many places appear to stock it in my shade so I picked up this NO 7 intense volume. I think it was £9.99 but the very lovely cashier gave me a voucher for half price which she redeemed against it. The wand is a nice size and shape. Have to say I wasn't blown away by the results the first couple of times I used it but then again I think mascaras can be a little like this one first use - slightly wet if that makes sense. I prefer them when they have dried out a tad. So now that has happened it is giving pretty good results. No fall out experienced but I wouldn't say it was the longest lasting mascara I have used.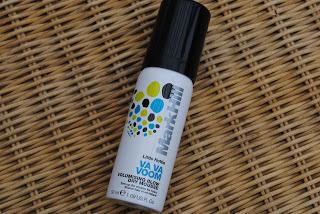 I'm currently in the process of growing my hair out from short to a shaggy bob. Normally I use a mousse so I picked up this small can of Mark Hill volumising bow dry mousse. I'd heard of Mark Hill but hadn't really used many of his products. Got to say this is a total fail for me. No matter how small an amount I use, my hair feels really sticky afterwards. So glad I only picked up a mini can!
Last up are two of my favorite products from Estee Lauder. I have used these two products for years. Sometimes I wear them separately and sometimes together depending on what look I am going for. Have to say in this weather I have been reaching for the DayWear tinted moisturiser alot more than the Double Wear Light!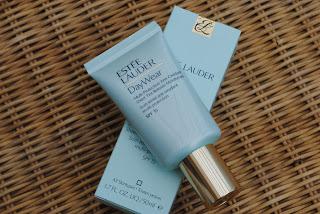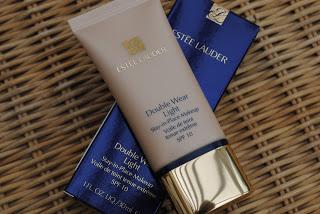 For those who don't use these products, I can't recommend them highly enough. The DayWear comes in one shade fits all, it looks gray when you first squeeze it from the tube and smells of cucumber; which I love although some people are put off by the scent, and has tiny color beads in it which 'pop' once you apply to your skin. It's not cheap, romping in at £37 but I find a tube lasts me for ages. The Double Wear Light foundation comes in a limited number of shades, six I think and I wear the lightest which is intensity 1.0 and this retails for £28.50 but again lasts for a long time.


So that's it for my little 'haul'. Have you tried any of these products or are there any you would recommend?