I learn something new at every blogger meet. "Something" could be hugely important, or it could be as simple as which dish to try if you go to a particular restaurant! Then there are some blogger meets where all I do is learn – all the while having loads of fun!
Word Up Bangalore belongs to the latter category. Organized by
BigRock
in association with
Domain.Me
, it was an all-day session of learning, rapping, laughing, and eating heavenly food (not to badmouth another meet, but the one right before this (*cough* Dabur *cough*) was the exact opposite). When the meet was first announced, honestly, I didn't know what to expect. Mainly cos all I could think of was – 9 am on a Sunday!? But wake up I did, reached Big Pitcher and got my name entered into the fishbowl called "First 50 Lucky Draw" (which I didn't win; it's (
cos I won't look graceful stating otherwise
) alright).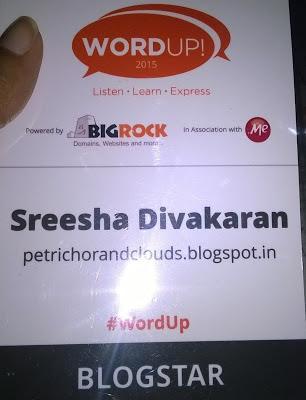 My Name Tag
I kept searching for some familiar faces, and eventually took a seat in a dark corner. As it was a dark corner, I hoped no one would see my while I admired my own name and my blog's URL on the name tags they gave us
(along with, did I mention - a backpack, a mini speaker, and - waitforit - a domain hosting coupon for the blog!
) While I was at it, I took some selfies with the name tag as well! (I shared those for the selfie contest – I didn't win that either).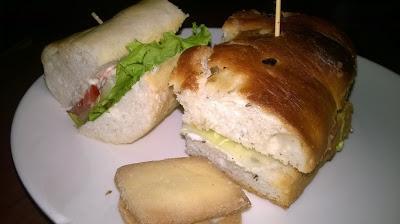 Breakfast!
Around 10-ish a lot of bloggers had come in, settled down and finished their breakfast; then the event started – Sruthijith was the keynote speaker. After that, Dheeraj Sharma spoke about the content strategy for blogs.
Then -
 Abhishek Dhusia came on stage – he is a rapper, and his performance was so amazing! I am very selective about the rap I listen to as some of you know, and I have often dissed on it as well (I subscribe to this idea, though I don't know who originally said it: Rap is like scissors – it always loses to rock). But lemme tell you, Abhishek gets full marks! I am sure not a lot of us are early risers on Sunday, and if anyone was feeling drowsy – Abhishek took care of that! He was simply wow!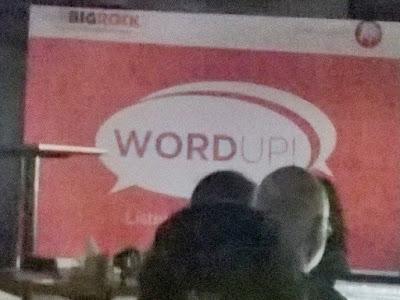 Sorry, my phone cam's zoom is a little sucky
Prasanna Revan spoke next about the appearance your blog – design, visual identity etc. He stressed on the importance of color palettes, and having a bit of white space on your blog. Well, I recently updated the look of my blog, from light gray on black to maroon on  what's-my-background-color-called-?. Wish I had attended this session before that!
By the end of his session, most of our tummies were grumbling, especially because we could smell some of the amazing food! The food was so, so, so good that my mouth is watering just thinking about it!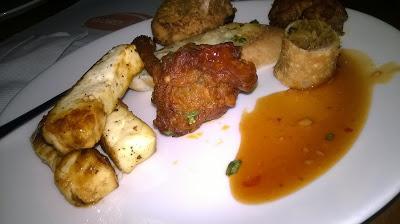 Lunch! 
After lunch we had a session by Janhavi Acharekar which I particularly enjoyed, as she spoke about publishing, fiction, and all the things I'm interested in. She even spoke about microfiction and sixword stories – a genre I've been playing with and enjoying ever since I discovered Friday Phrases on Twitter (yeah, those creepy microfiction tales that you all hate so much on my blog – those!) She said nowadays anyone can be a writer and it isn't as difficult as it used to be. Frankly, that makes me sad. If you've read Inferno, you know that it makes Dan Brown sad. And if I am not wrong, I sensed a hint of wistfulness in Janhavi's tone as she said it (or maybe I was hoping to hear it). But I will rant some other day about the evils of self-publishing (okay, not "evils" because I am a (not so proud) self-published author too).
The stand-up comedy act after that by Kritarth Srinivasan had all of us throwing our heads back and roaring. In jocular tones (obviously) he spoke about his "identity crisis" on being brought up in different parts of the country and I could completely relate to that! Truth is just funny to some of us!
After that, Prasant Naidu and Arun Prabhudesai spoke about consumption behavior and monetization respectively. Topics such as ADHD-stricken websites like Scoopwhoop and Buzzfeed were touched upon (I mean no disrespect to those with ADHD, but all disrespect to SW and BF). As for monetization, I once swore to myself I would never monetize my blog, but then as you can see, I now have an ad near my header! (Cos Joker said, "If you're good at something, never do it for free." I really don't want to, but no one is paying me yet #Sadface)
In addition to the great food, great music, and great informative sessions, what made this (and also other blogger meets) great is the company! I was so glad to see some familiar faces (
Sabby
, Indrani), and others whose blogs I enjoy but never had a chance to interact with face to face with before (
Parul
). There were some people I wanted to meet, but they couldn't attend due to various reasons. I really hope that there's another meet soon, and we all have as much fun as we had at this one!
But then – #WordUp's shoes seem pretty big to fill!
Copyright Petrichor and Clouds 2015 at petrichorandclouds.blogspot.com Please do not reproduce the material published here.