It has been a very long time since i posted any interview. Ohh, such a lazy soul i am. Anyway, its time to meet another beautiful soul from Kolkata  i.e. Sourabh Mukherjee. An Electronics and Communication engineer  and an awesome author .  I won't introduce him yet he himself will through his answers . :) :)
Enjoy :) :) Happy Reading :) :)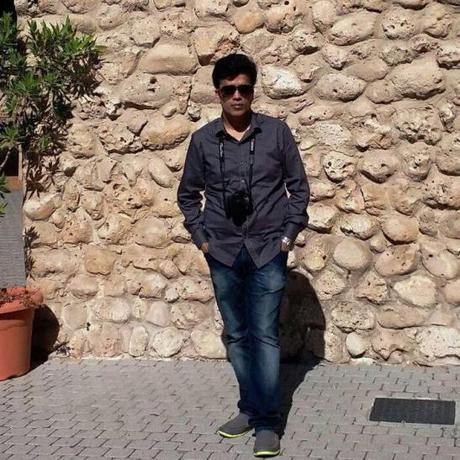 Q1. Describe Sourabh in five words?
Ans. Optimistic, Ambitious, Hard-working, Emotional and Blessed.
Q2. Despite working in a leading firm, how you got inclined towards writing? How did you discovered the writer inside you?
Ans. I've been writing for as long as I can remember – it is just something I love to do. In my early childhood, I would spend hours writing, as well as making illustrations for my own stories. A number of my poems were published in children's magazines back in the day. I continued to write through my teenage and later in college.
I kept writing in office magazines for a couple of years, but the demands of my career as an Information Technology professional and my travels across the world soon left me with very little time and creative energy to write fiction. I churned out technical whitepapers and non-fictional articles that got published in business and technology journals. However, as I traveled across the world, I got to observe people from widely varying cultural backgrounds and to study their emotions, their thoughts, their behavior from various perspectives. And stories began to grow all over again.
Also, writing began to evolve into a cathartic experience for me. It began to help me give vent to my emotions and to create stories out of them in the process.
( I am amazed :O :O By god, itna passion :P  ) 
Q3. Why you chose crime thriller as the main theme of your book? There are many others'. 
Ans. Being an avid reader of crime fiction myself, I have always harboured an ambition to make my own humble contribution to this genre. The story, of course, had its germs in my own interests in human psychology and in the complexities of human relationships, especially in these times of changing social order.
Also, it does not make me too happy to note that, whenever we speak of popular detectives in English fiction, we end up naming characters created by foreign authors. With so much of quality fiction being written in India in the English language, where is that one pan-Indian character that is a brand by her or his own right and has instant recall? So, I asked myself, why not make a humble effort to create one in ACP Agni Mitra?
( shaandaar, baat toh sahi kahi, kuch toh Make in india bhi hona chahiye na :P :) ) 
Q4. What difficulties you faced while writing " in the shadows of death"?
Ans. The amount of research one needs to do before writing a book depends largely on the subject.
Let us take my latest novel as an example. 'In The Shadows of Death' deals with homicide investigation and coming from an entirely different professional background, I did a fair amount of research into areas like forensics, autopsy procedures, DNA studies, cyber forensics and so on.
These, of course, were supplemented by my own studies on criminal psychology, which is a subject of personal interest.
( I am telling you this person is not human, he is an alien :P dusre gola ka hai :P ) 
Q5. What do you feel is your style of writing? Would you like to experiment in your writing styles or follow a same pattern?
Ans. Honestly, I do not follow a fixed routine when it comes to my writing.
I create a basic structure and chapter outlines and then I start writing the chapters with the basic premise in sight. And I let go, letting the sights and the sounds in my mind take over. It is, therefore, extremely important for me to be in the 'appropriate' frame of mind to write. I need to be in those situations myself. Therefore when I am writing a story, there are days when I am not in the 'appropriate' mood that the work demands, and I do not write a word.
What I always hear from my readers is that they can visualize the scenes, and relate to the characters. And now you know why.
Again, the non-linear style of storytelling, where I keep traveling between the past and the present, that you see in this book was necessitated by the storyline, as the book traces the journey of the central character over several years. However, that may not be the demand in every story that I choose to tell.
( Mera appropriate mood kab aaega book likhne ka  :P ) 
Q6. According to you, what points should be kept in mind while writing a book to make it a good one? 
Ans. It is important to create real, identifiable characters in a story – unless of course one is writing a fantasy or a superhero story. Correct use of the language is essential. An author should ensure that a story progresses at a uniform pace – a story that slows down after an energetic start is a big let down. Finally, it is not about the length but always about the impact of a story. I have read 1-page stories that have left me thinking for days.
Q7. Why readers' should read "in the shadows of death"?
Ans. "In the Shadows of Death" has been appreciated as a fast, racy thriller. However, in my view, under the garb of its obvious elements of thrill and suspense, In The Shadows of Death has a strong emotional and romantic undercurrent.
When I look at my city today, I see a Kolkata in the cusp of change. Contemporary Kolkatans are from a generation that is ambitious and ready to embrace 'the good life'. It is a generation which has seen its parents struggle, yet has barely gone through that struggle itself. And for many, there  is a singular focus on fulfilling their own desires and ambitions at any cost. In the process, Kolkata today is experiencing a significant change in its societal structure and core ethics of its people.
I want my readers to see through the obvious elements of thrill and suspense in the story and realize the adverse impact of dysfunctional relationships on our society.
Q8. In the near future, will you continue writing crime thriller books or you would like to take up a different theme?
Ans. The way I look at this is, I write only about human relationships. The many ways in which they unravel and manifest themselves end up creating stories that sometimes excite us, scare us, or make us sad – leading to corresponding categorization of the stories into genres like Romance, Horror, Drama or Thriller. But, it's always the complicated and unpredictable human nature at the core of everything. I will continue to write stories about human relationships.
Q9. A note to readers on how they could improve their writing skills?
Ans. You need to be a reader to  even start writing.
---
RAPID FIRE-
Q1. Sourabh or Agni– Sourabh
Q2. Water or ice– Water
Q3. Day or night writer– Whenever it is quiet.
Q4. You're thinking spot– Any closed room.
Q5. Mumbai or Jaipur– Jaipur
Q6. Are you superstitious– Yes
Q7. If given a chance to borrow a genius brain, whose brain would you like to borrow-                                                                                                                                                         Satyajit Ray
Q8. Which writer you want your biography to be written- Jeffrey Archer
Q9. Most expensive thing you've got till date– My wife gifting me my son
( bete ki itni khushi :P ) 
Q10. Silliest question you've been asked till date– Who do you love more – Mom or Dad? I guess every child in our country faces this one!
( hahaha… epic.. bhartiya janta nahi sudharne waali :P :P Dog ki tail kabhi seedhi nahi hogi :P  :D :D Ignore maaro :P  ) 
---
BOOK LINKS-
AMAZON-
Paperback: http://www.amazon.in/Shadows-Death-Detective-Mitra-Thriller/dp/9382665579/
Kindle: http://www.amazon.in/Shadows-Death-Detective-Mitra-Thriller-ebook/dp/B01BIRL5I4
FLIPKART- http://www.flipkart.com/shadows-death-detective-agni-mitra-thriller-english/p/itmed6437bgzfgcz
INFIBEAM – http://www.infibeam.com/Books/shadows-death-sourabh-mukherjee/9789382665571.html/
---
Connect with the creator of  ACP Agni Mitra through following links and get tips on creating more like Agni Mitra. :) :) He won't say no. :) :)
CONTACT INFORMATION-
Facebook – http://www.facebook.com/authorsourabhmukherjee
Goodreads– http://www.goodreads.com/author/show/7696320.Sourabh_Mukherjee
Blog– mukherjeesourabh.blogspot.com
LinkedIn:  https://in.linkedin.com/in/authorsourabhmukherjee
Google+: thestoryteller1974
Filed under: INTERVIEWS Tagged: acpagnimitra, aweomesoul, bookinterview, crime, interestingperson, sourabhmukherjee, thriller