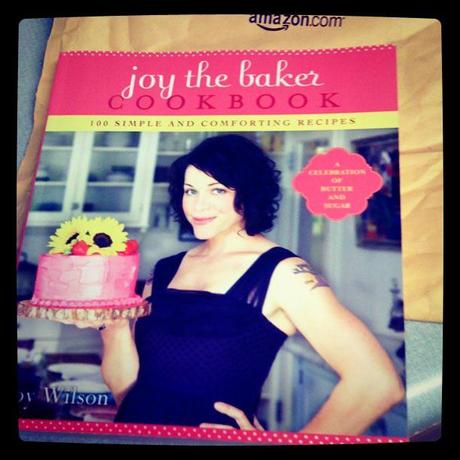 I was so excited when this little gem of a book arrived I almost hugged the UPS delivery man….I settled for a high-five. I stumbled upon Joy's blog a few months before her cookbook come out and immediately pre-ordered it. I was excited. I remember telling my husband all about it and how I'd never pre-ordered a cookbook before and so that alone was exciting to me,  but I was even more excited that Amazon said it would be delivered on the release date. Needless to say, he didn't find it nearly as interesting as I did.  It completely made my day.
I didn't forget about the cookbook but I did get busy with life and such and well it was pushed to the back of my mind and so let's just say when I saw the UPS truck stop in front of my house it all came back to me and I was thoroughly excited all over again. I read it cover to cover. I like to read cookbooks the way I read non-cookbooks (is that a word?) from start to finish. Joy is such a gifted writer, I love her personal tidbits above each recipe. After reading it I felt like we were old friends.
While browsing on Amazon I realized there are several other cookbooks coming out soon. So I did the only thing I could do. I ordered them. After doing this it got me to thinking, why not feature them right here on my little blog. I think this is great for several reasons.
1. It gives me a reason to cook and try new recipes.
2. These are all really great cookbooks.
3. It will give me the chance to maybe help those of you on the fence about purchasing the cookbooks yourself with my honest reviews.
4. It makes me excited just thinking about it.
Back to number 3.  I cannot even begin to count the times I've been out shopping and bought an impulse cookbook. Sometimes this has worked out and sometimes not so much. Even if I pick up the book and give it a glance I'll almost always see at least one recipe I want to try.  So I go a head and purchase it only to get it home and realize that one recipe is the only one in the whole cookbook I'm into.  So I'm going to be making several recipes from each cookbook, posting photo's, and sharing my experiences with each recipe. I think it's going to be great fun and what better book to start with than Joy The Baker! I'm also working on a special giveaway to go with each cookbook. It's super exciting! More info to come on the giveaway in the days to come.
To check out Joy's blog click here.
To purchase her wonderful cookbook click here.