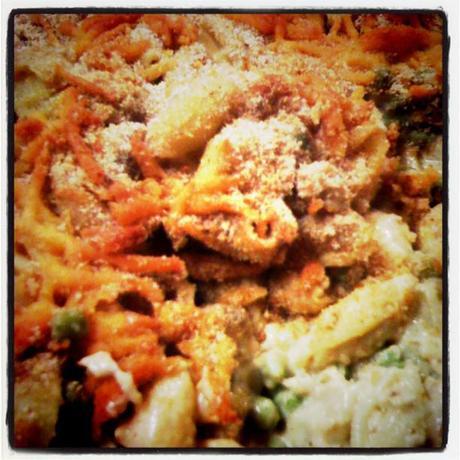 It's been a while since I've made tuna & shells but boy does it sure hit the spot. Not only is this dish easy to make, it's very tasty. It's a favorite around our house, the kids love it, I love it, it's perfect to make on a rainy day. The picture above doesn't do this dish justice. Trust me it's good…it's really good.
Print Tuna and Shells in Cheesy Cream Sauce
Rating: 51
Ingredients
1 Pound (or 1 box) Medium Shells
6 Tablespoons Butter
1/2 of one Small Onion finely chopped
1 Clove Garlic, peeled and smashed
5 Tablespoons White Flour
2 Cups Chicken Broth
1 and 1/2 Cups Heavy Whipping Cream
2 Cups Shredded Extra Sharp Cheddar Cheese
2 Cans White Tuna in Water, rinsed and drained
1 Can of Peas (frozen peas are perfectly okay, you'll want to cook those first though)
Season Salt & Black Pepper to taste
Topping
1 Cup Bread Crumbs
1/2-1 Cup Shredded Extra Sharp Cheddar Cheese
Instructions
Preheat the oven to 350 degrees.
Spray cooking spray (Pam) on 9x13 baking dish.
Cook the pasta according to the directions on the package, drain, set aside.
While the pasta is cooking we'll get started on the rest of the recipe. Grab a skillet and let's get started.
Melt the butter over medium heat, once it's almost all melted add the finely chopped onion.
Cook until the onion is translucent (around 2 minutes) then add the peeled and smashed garlic and sauté for 1 additional minute.
Add the flour and season salt and black pepper to taste.
When the mixture is nice and bubbly add the chicken broth, bring to a simmer. Continually stir the mixture for the next 2 minutes.
Stir the whipping cream into the mixture.
Next add the 2 cups of extra sharp cheddar cheese. Simmer the mixture until the cheese is nice and melted.
While the mixture is simmering, open your cans of tuna. Drain the tuna and then rinse it while its still in the can and drain it again. Break up any big chunks that happen to be in the can.
Stir the tuna into the sauce and mix well.
Finally add the can of drained peas, making sure everything is mixed very well.
Add the mixture to the shells and stir to make sure it's nice and mixed. Add the shells with the sauce to your baking dish (mine is 9x13, but you can use whatever size you happen to have).
Now we'll get to work on the topping.
Mix the last 1/2-1 cup of extra sharp cheddar cheese with the bread crumbs.
Sprinkle the mixture evenly over the top.
Bake at 350 degrees for 20-25 minutes, or until the mixture is nice and bubbly and the cheese is nice and lightly golden brown.
Enjoy.
Google Recipe View Microformatting by ZipList Recipe Plugin1.4http://www.beckybett.com/?p=1499