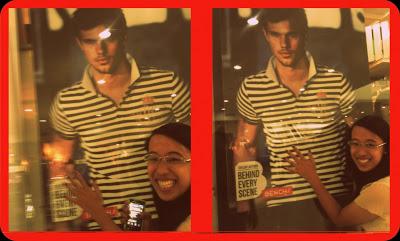 What do you do when you see this shiny+pretty thing dangling right infront of you ready to be consumed:
A. Walk away and pretend that it doesn't matter. Fangirls are so yesterday and besides it's embarrassing. Right? To be caught drooling over a blown up photo of somebody. Pffft!
B.  Just be true to yourself and giggle like you'll be forever fifteen and not care about the glaring eyes being cast by passersby. Then capture that moment in a photo.
We obviously went for option B for it's better to go home blushing, giggling and happy than berating ourselves for not seizing the moment and who knows for how long this beefcake's gorgeousness of a poster would be hanging on that hallowed glass wall.
Besides, he's just irresistible. Of course we wanted to take him home but..
Our beloved Taylor Lautner for Bench and my overjoyed sister obviously grateful that she has me handy for this wonderful  moment. Sure sis. Anything for my Lautner-loving eyes.