Hey guys,
So in a bid to READ MORE, I have started renting out the local library (not literally) but each week I'm hoping to pick up at least four books to read. I really want to get back into reading so that I can do some more YouTube reviews!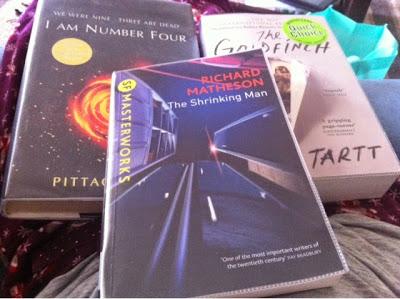 Some great reads!
The following books are:
The Goldfinch- Donna Tartt The Shrinking Man- Richard Matheson I Am Number Four- Pittacus Lore Where'd You Go Bernadette- Maria Semple (not in this picture-sorry!) 
Do you think this is a good idea? What are you reading at the moment?
Love, 
TSITR xo