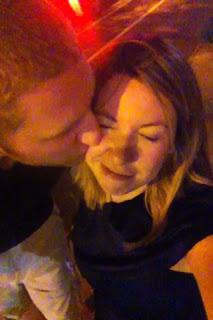 Our first week living together!
Recently I've noticed a large amount of sources from searches for long distance relationships during medical school. I was trying to think of why this would be and then I realized - med school interviews are pretty much over for the year and those couples that were holding out for a school close to one another have given up hope.
I know because that's where I was three years ago. I was in Maryland, crossing my fingers tight for a DC or Baltimore school, and those assholes never even gave M a second glance.
But what's done is done, here's advice for the freshly long-distanced to get you through this difficult time.
1)
Find yourself a hobby
. Go to the gym. Make some goals for yourself. Get a library pass. Subscribe to Netflix. These activities helped keep me busy, I think it's better to do something that involves people. Join a Zumba class or find a cooking class near you to meet new people and learn something. Sitting by the phone or the computer is good for no one.
2)
It is nobody's fault
. Sometimes bad things happen to good people. Don't try to look for answers to why you got the shit end of the stick and the friend who cheats gets to have her boyfriend close by. There is no reason, life sucks at times. I spent so much time dwelling on the what-ifs and they led
nowhere
.
3)
Be patient
. I wanted M to transfer schools immediately. I did not care how plausible that seemed or even knew what hoops he'd have to go through, I just wanted results NOW! NOW! NOW! Again, don't think about the what-ifs or try to plan out the next few years. If you look back at my old posts, I always mentioned worst-case scenarios "Well I can't move in May because M will be studying for Step One, guess that means another year apart!" You cannot rush these things.
4)
Find others in similar situations
. Lovingfromadistance.com was my godsend through the first rough six months apart. I became a huge part of the community and used to blog a lot about my feelings on the long distance and everyone knew exactly how I felt. Plus, there are people that are worse off than you and still walked away with happy endings. Don't be afraid to reach out to people on Facebook or friends of friends for advice. I always messaged one girl I hadn't talked to since high school who spent four years apart from her (now) husband. We will probably never hang out, but she was always sending me positive messages when I had long distance doubts.
5)
Long distance relationships usually don't fall apart because of the distance.
When M and I had rough patches it was because
I was lonely and relying 100% on him for a support system, he wasn't showing his commitment to our relationship, or we could not compromise when we fought over trivial things. I believe these things would have happened with or without the 2-7 hours between us.
6)
It will go by fast
. Everyone told me this and now looking back, two years was nothing! M and I always think about the fun things we did and rarely about the many nights I cried on the phone to him because we hadn't seen each other in a month. Enjoy the time apart, it's always a perpertual date night when you're long distance.
7)
You will be together one day and it won't be at the perfect moment
. I wish someone had told me this. I was always looking for the perfect moment of when I could leave my job and be with M. There wasn't one. I quit my job two weeks before busy season started, a week before M's second year started, when he had just signed a new lease with a roommate, and it wasn't perfect at all. Hell, the toilet didn't even work and we nearly broke up the week I moved in over that stupid toilet. Just being with him is perfect enough, it didn't matter when.
Hopefully these tips help, and if you ever want to shoot me an email about it go right ahead!
[email protected]