Last Saturday's family bonding trip included a little photo op at one of my region's (Eastern Visayas) most visited parks, the MacArthur Park also known as the MacArthur Landing Memorial Park) in Palo, Leyte. Come see how much fun we had in this historic place.


A Place in History

The MacArthur Park is named after  Douglas MacArthur, the General who liberated the Leyte Island on October 20,1944 from the Japanese Forces during World War II. This site here is the place where he fulfilled his promise of "I shall return", which he uttered 2 years before when he had to retreat to Australia due to Japanese occupation of the Philippines. I've always known this place even as a child as it is thoroughly discussed in school as one of the most historic places in the country. Other than that, any place or anything that connects us to the past always amazes me. As does this one. It has changed much from the last time I saw it some years ago. There was a time when this place was very clean and well maintained: golden paints intact and lights well installed. If my memory serves me well, I think it happened in 1994 when the 50th anniversary of the landing was celebrated. Right now, oh well, it's not on it's top condition. Which reminds me, October 20 is just around the corner. That date is a local holiday in Leyte and every year, the Leyte Landing as it has come to be known around here is commemorated with a flag-raising ceremony and sometimes even a reenactment of the  General's walk though the knee-deep water towards the shore.
So, here are the photos and how much fun we had! :)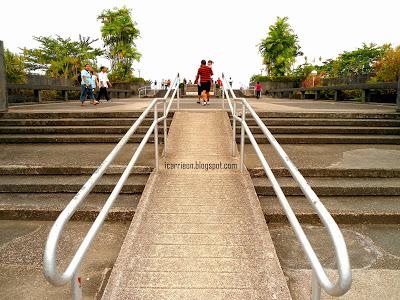 Yes, getting there involves a little climbing a few flights and once you are there you will be greeted by this: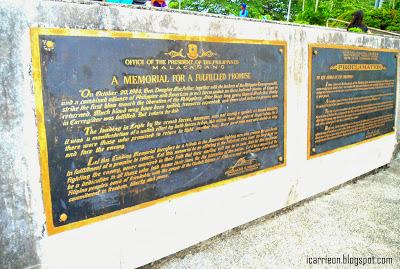 Tablets set in stone signed by former President Ferdinand Marcos telling us the story behind this monument. Just a few more steps and we are finally met by these large statues with General MacArthur leading the way. This 'clique' (why'd I use that word!) includes then President Sergio Osmena Jr. The statues which are made of bronze are about 10 feet tall so they're pretty massive.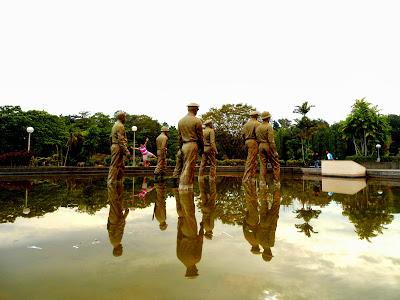 It is what it is. We pretty much know now how this place played an important role in history. However, let's not forget too that this place has a great view of the sea which is great for what?! Photo ops! Here are my siblings doing what: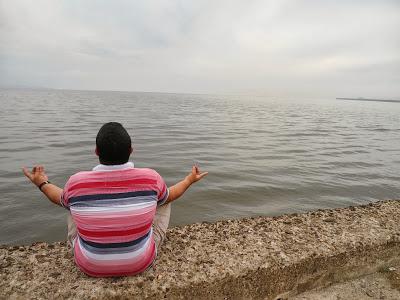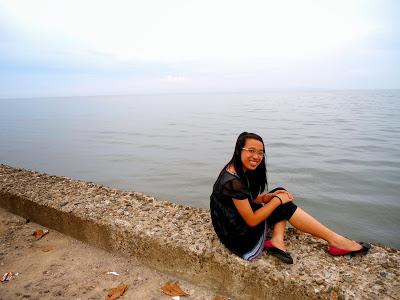 Well, I must admit that I am acrophobic. Heights freak me out. The best that I could do was this awkward pose. Mind you, behind that concrete is an easy 15 foot drop directly towards the water so please don't ask why I could not look at it. :(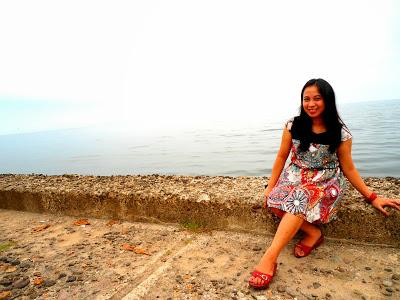 Aside from that, of course the bronze statues also make for a great backdrop for photos. That's me and my brother.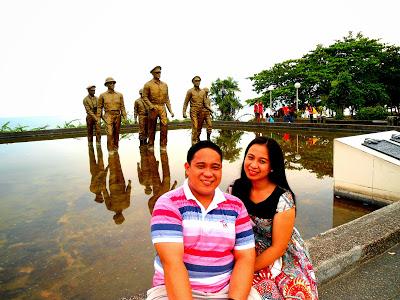 And the shrubs were in full bloom I couldn't resist having my photo taken.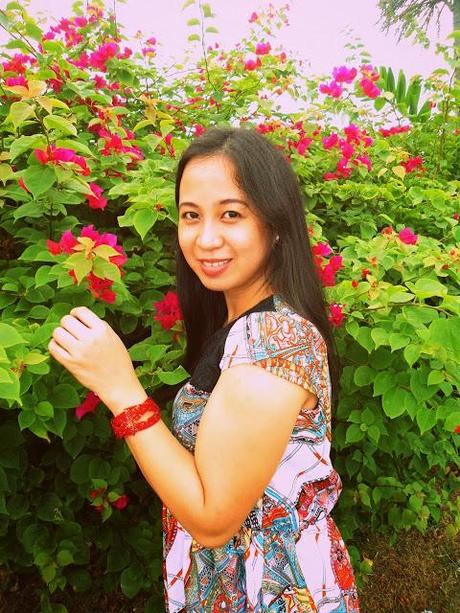 Even in school I love history subjects but we are all very unique in so many ways so you probably don't like it as much as I do. You may find it boring and very demanding on your memorizing skills what with the names of dead people, places,dates and events that you must take note. But that boredom may be alleviated if you can get to know history in a more enjoyable way such as going to parks and just connecting with the whole stuff that happened in that place. So, have fun while learning!


Getting there:


The Park is located in Red Beach, Brgy. Candahug, Palo, Leyte. It's about 15 minutes away from Robinsons Place Tacloban. It's basically a jeepney ride away, and the outskirts of the city is still pretty much traffic jam free.
So, there you have it! I had so much fun while we were there. Hope to see you again on my next shoestring travel. Good day!
XO,
Carissa