I'm am
extremely
lucky in that I've always had very young looking skin. People I meet always guess my age at least ten years younger and demand to know what my' secret' is. What magic, what kind of voodoo keeps me looking young? The truth is, I have very oily skin so I've had quite a battle on my hands since my teens to try and keep it under control. I have always religiously stuck to a minimalist skincare routine which has done me fine… Until now.
Over 40 Skin Changes – Shock Horror!
It was only earlier this year after I'd hit 43 that my skin did actually change. In what way? Well, up until a few years ago, my skin always felt oily when I first woke up. Now, it seems a little bit thick and leathery, occasionally with a dry sandy texture. My pores seem larger and more open than they used to be and I've noticed a few little lines appearing around my eyes. I've found that any foundation I use accentuates these blemishes and makes me look older and any 'pore refining' treatments only exacerbate the situation. I didn't know what to do about this skin change at first. For most of my adult life, I've been a total Clinique addict and have religiously stuck to their
three-step skincare system
. Recently though, it just doesn't seem to be doing the job that it used to so I have reluctantly had to change my skincare routine.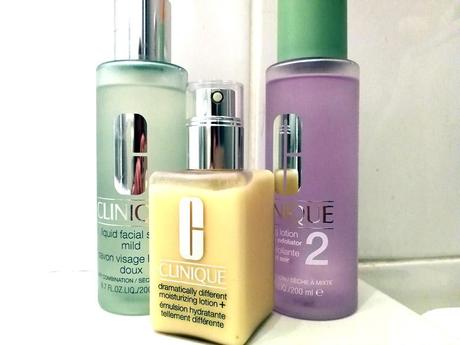 Cleanse, tone, moisturise has always worked for me!
" data-orig-size="780,585" sizes="(max-width: 780px) 100vw, 780px" aperture="aperture" />The Clinique three-step skincare system has always kept my skin looking amazing!
My 5 Step, 5 Minute, Miracle Skincare Routine
I've also started work full time recently, which is awesome but it does mean that I have less time in the morning to prepare myself. I've had to establish a super quick skincare routine that I can stick to you every single day that gets me out of the door quickly and without too much fuss. So this is how it goes:
Clinique Liquid Face Wash
Clinique Clarifying Lotion
No7 Protect and Perfect Intense Advanced Serum
No7 Protect and Perfect Intense Advanced Eye Cream
Olay Total Effects 7in1 BB Cream
Before bedtime, I repeat the same routine but instead of the BB cream, I use my
Clinique Dramatically Different Moisturizing Lotion
.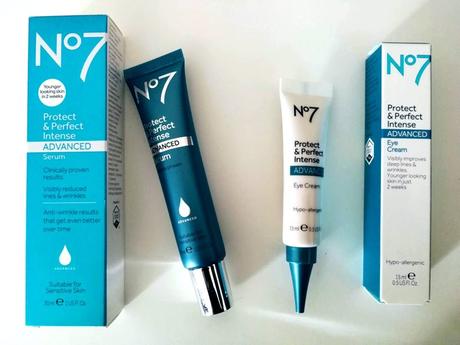 No7 serum and eyecream. The new additions to my 5 minute miracle skincare routine
" data-orig-size="780,585" sizes="(max-width: 780px) 100vw, 780px" aperture="aperture" />The new additions to my skincare routine
What Difference Has My New Skincare Routine Made?
The serum makes a
huge
difference in the way my skin feels! It instantly transforms it from being dry and leathery to soft and supple. Somehow, it seems to enable the moisturising lotion to be more easily absorbed into my skin. The eye cream, I don't think makes a massive difference to the way my skin looks but it does make the skin around my eyes
feel
softer and more supple from the inside. When I'm tired it's a lovely pick me up! The BB cream is somewhere between my skincare routine and cosmetics. It moisturises my skin lightly without making it feel greasy. At the same time, it gives me just the right amount of coverage for daytime wear with a lovely healthy glow!
Finishing Touches To Make You Look Fabulous!
All I need to finish off is a brush of mascara and a slick of lip balm. My favorite mascara at the moment is
Loreal Paradise
. It made me laugh because it claimed to be 'a pleasure to apply'! Haha! It does go on quickly and easily though and the big, thick brush catches every lash. The lip balm I absolutely swear by is
Carmex Moisture Plus Ultra Hydrating Lip Balm
in Pink Sheer Tint. It keeps my lips beautifully soft and moisturised throughout the day without me feeling overdone. So that's it, job done and out the door in under five minutes! Do you have a super quick morning routine? Do you have any products you swear by? I would love to hear from you, please get in touch! Rach x * This post contains affiliate links