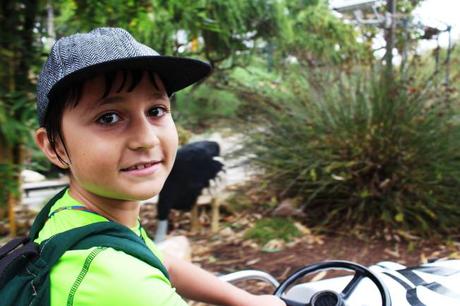 This boy absolutely makes my heart swoon.  With a single glance, he can make me melt and reduce me to a bowl of mush.  That is why that today, on his 9th birthday, I want to make certain that every single moment is spent making him feel so special.
There are chocolate donuts for a classroom party at school, dinner plans at his very favorite restaurant tonight (Taco Bell!- LOL!) surprise gifts and so much love all day.
When I was kissing him goodnight last night, he gleefully determined, "I think somebody might wake me up with the Happy Birthday song tomorrow morning."  He is right.  Somebody will joyfully sing to him first thing in order to start his day with happy wishes from the moment he opens his eyes.
This is "My Boy Lollipop" – the kid that fills me with his sweetness.  Happy birthday sugary sweet, 9-year-old.  I love you to the moon and back!  Hope your day is perfect and as special as you are. xo