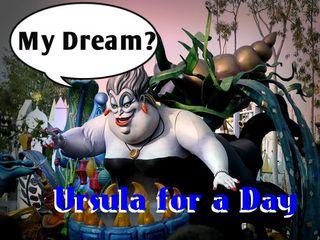 Yes, this is a longheld dream of mine: portray Ursula the Sea Witch - even if just for a day!
I have a secret love affair with Ursula, the sea witch, from Disney's The Little Mermaid. I have often thought she is a character I could portray with all her evil loveliness and humor.
 When I visit Hollywood, my children and I have oftentimes said we should dress up at the Chinese Theater and along Hollywood Boulevard and I always say I will be Ursula. It would be so fun to costume and make up and my vision includes a rousing rendition of her signature song.
Anything is worth doing once, right?
Besides that, I love the thought of having her tentacles. Just for a day, that's all I need.
Tentacles for a day.
=====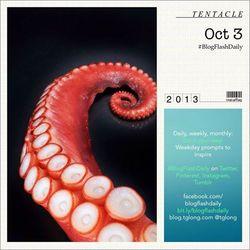 This post was inspired by #BlogFlashDaily - Join the writing fun! Julie Jordan Scott is a writer, performance poet, Mommy and mixed-media artist. Her word-love themed art will be for sale at First Friday each month in Downtown Bakersfield. Check out the links below to follow her on a bunch of different social media channels, especially if you find the idea of a Word-Love Party bus particularly enticing.
Please stay in touch: Follow me on Twitter: @JulieJordanScot    
  Be sure to "Like" WritingCampwithJJS on Facebook. (Thank you!)
Follow on Instagram
And naturally, on Pinterest, too!
© 2013