Hi Lovelies!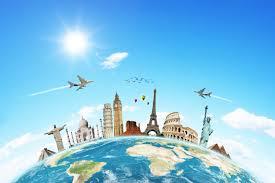 Hope you've all had a good week and HAPPY EASTER!! how much are we loving the extra days off?! I've already eaten three of my easter eggs, feel like a massive piggy but I have such a sweet tooth I couldn't resist! I think every week should be a four day week, people seem to have more energy and are generally in better moods. 
Also, just thought I'd share, I decided to watch Frozen the other night, to see what all the fuss was about and I love Disney/Pixar films. I can definitely see why everyone loves it! It reminds me a bit of Tangled, which is one of my favorite disney films. All the songs were amazing and I just loved the story!
Anywho, I'll get to the reason for this post. As everyone starts gearing up for their Summer hols, I thought I'd share with you a few of the destinations on my bucket list!
NEW YORK- I have wanted to go here ever since I can remember, but have never gotten around to it. I have a bit of a fear of flying. I say a bit of, as I can handle short haul flights quite easily but it's always stopped me plucking up the courage to travel long haul. But i've decided to stop being such a wuss and travel there in the near future!
LOS ANGELES- This is another place that due to my fear of long haul flying, and also because of finances, I haven't managed yet. I've always dreamt longlingly of roller blading along Venice Beach, bumping into A listers as if they're your next door neighbours, and of course the nightlife, and amazing food and shopping!
AUSTRALIA- this one would be a massive personal achievement for me. 24 hours on a plane?! that seems pretty much impossible for me at the moment. A few of my friends have gone traveling around there and loved it so much and have so many good stories and memories that I just think I'd love to experience it, even just once. 
PARIS- I know this one isn't exactly original. But i'm so frustrated with myself for STILL not having visited the land of love! We are so close to it, only two hours by EuroStar, and you can get some really good package deals. So what's stopping me?! There's so much culture and things to do. I'd love to go in Winter time and I've said it every Christmas for at least the last two years that I will go next year and I havent. But I'm still going to say it again; I really do hope to go this Winter!!!
CANADA- I've always wanted to try my hand at skiing, and what better place to try than in the gorgeous Canada! I've heard so many good things about it. There's meant to be fascinating history and culture in Montreal, and fab nightlife and shopping in Vancouver! I really hope I get to visit it one day. 
Have you ever been to any of these places? Where are your favorite places to travel? Drop me a comment below would love to hear about it! :)