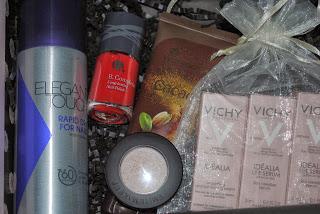 I don't often do a blog post on Glossybox, usually because the blogosphere is awash with posts and I'm generally too lazy! But hey-ho thought I'd share with you what I received this month.
I am sure you all know everything there is to know about Glossybox and if I talked about them it would be like teaching your Grandmother to suck eggs, but if you don't know about them you can read more
here.
So the rundown on November's box:
Vichy Idealia Life Serum 
Emite micronized Eyeshadow in Nect
Yves Rocher Cocoa & Pistachio Nut hand cream
Elegant Touch Rapid Dry for Nails
B. Complete long lasting nail polish in Matador
I've only tried the Emite eyeshadow so far.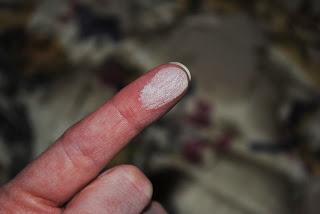 This is a really pretty soft shimmery ivory. It lasts well and the color payoff is good. Would say it rivals my eyeshadow favourites Mac but at £16.80 a pop they are a tad more expensive so don't think I will be swapping over. I have heard of Emite before as I had a set of their eyelash curlers in a previous Glossybox and were very impressed with them.
I'm looking forward to trying the Elegant Touch Rapid Dry; as anything which dries my nails faster is a bonus and I remember my Mum using something simliar when I was a kid and she swore by it, so we'll see.
I'm loving red polish this season so was really pleased with the color polish that I got and can't wait to try it out.
So do you subscribe to Glossybox?
What do you think of this months box?