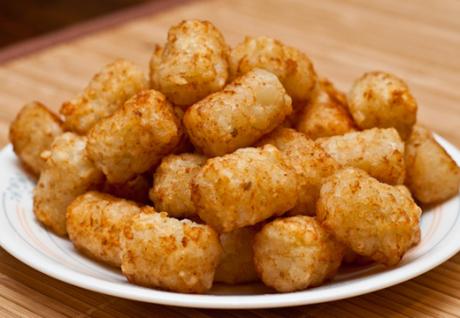 Often, I don't know how I have survived this far. 
…I am sound enough in mind to hold down a job and function, and do all the adulting of paying bills (etc.) I've pulled a giant week already. It's only Tuesday, and have already done payroll for 14 builders, balanced $900,000 in Open Orders, assigned 40 jobs, built nearly 80 contracts, did rehearsal for a Planned Parenthood benefit read, and tonight had another phone interview so intense, my butt started sweating.
…I hung up from that call with yet another interview (on Thursday) set, and two more hoops to jump through after that. So I immediately drove to the the site (in order to find it with ease, later), came back home again for a walk (in what I like to call "Money Hill,") through sunset, while listening to my absolute favorite West Wing Weekly podcast episode to date ("Bartlet for America"), and now: I'm home.
Home, and cooking my dinner of tots, with a side of Mai Tai, listening to Caitlyn Moran's " How To Be A Woman."
It is 10:47.
A part of me worries that as an adult human, this is just part of life. One can't really say, "right now," as I'm not exactly 20, with room to grow out of it. Ate a goat cheese arugula and cranberry salad for dinner last night. And now: I'm popping too-hot potato-coals into my mouth, laughing at both the pronunciation and content of the book, while simultaneously thought-posting and drinking juice-spiked alcohol.
I got my walk in. I did my work. I performed one hell of an interview. I have plans (after this) to turn in my 40th application, before bed.
(Literally, my 40th. I am not playing at random number drops.)
This is my life.
I've just got to accept it.
…Caitlyn is now on a stint talking about the labia, pronouncing it, "lab-ia," and I am (not for the first time) charmed by our tomatoes/toe-ma-toes cultural differences. It is a rare moment 'tween a myriad of "minge" and "front-bottom" when she calls out the actual anatomy. My favorite thing about this book is that The Brits have more ways to talk about private parts, without ever actually saying the name of the private part, than probably any other people in all of time. And also: Moran is pretty fierce. I'm not 100% on her team…but like 90% is a damn good sell these days.
…Meanwhile: am out of tots and I've got more job boards to scour. 
It is 11:10.
…Lets do this thing…
~D
Advertisements