Zachary, my little puzzler, was very excited when he saw the
Ravensburger Children's World Map 3D Puzzle
and couldn't wait to discover how a puzzle could form a 3D shape. I have to admit I was with him on this one hence the box was opened within seconds and we were on our way.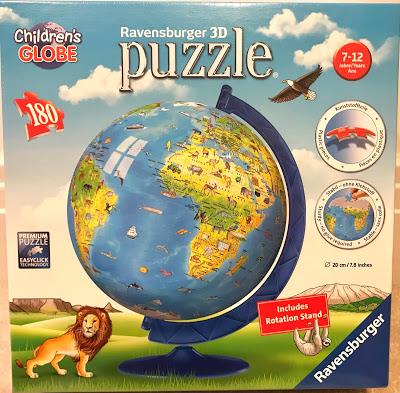 Building the World
This was our first 3D puzzle so I was looking forward to finding out how the pieces would actually fit together to create the shape. It turns out it is a very clever design, the 180 plastic pieces are curved to form a perfect sphere once assembled with absolutely no glue required. To ensure you get everything in the right place, each piece is numbered on the back and when you are finished, hey presto you have a 20cm puzzle ball which is ready to display on its very own stand. I just love how the globe brings the world to life with its colourful illustrations, it is a fantastic way for children to explore the world.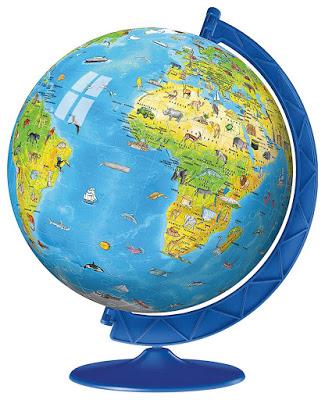 Our Verdict
We had a lot of fun building the Ravensburger Children's World Map 3D Puzzle, once we figured out how to start assembling the pieces, Zachary was on a roll and raced to get it finished.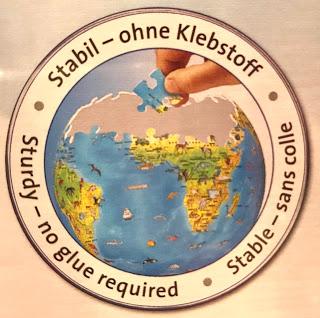 The assembly stand is very cool and the perfect way to display and use your globe. The kids loved retracing their travels around the world and finding different countries along the way. 
The great thing is you can take it apart and rebuild it all again as many times as you like. If you have competitive kids like mine you may find they enjoy timing themselves to see who is the quickest. It makes a perfect gift for kids who like puzzles, it tests their jigsaw skills while having the added bonus of being eductional and improving their geography knowledge in a fun and challenging way. 
Where To Buy
The 
Ravensburger Children's World Map 3D Puzzle
 is available to purchase from
Amazon
 and all the usual toys retailers. It has an RRP of £19.99 and is suitable for ages 7+ years.