Do I like bacon? No, I don't. I love them. Wahaha! I even made a specific blog post about it here - bacon for breakfast. But despite enjoying eating them for breakfast or whatever part of the day it is, can you believe that we can still up the game a bit more regarding the experience? Yes, it's about getting MORE of them! Lol. Unlimited actually..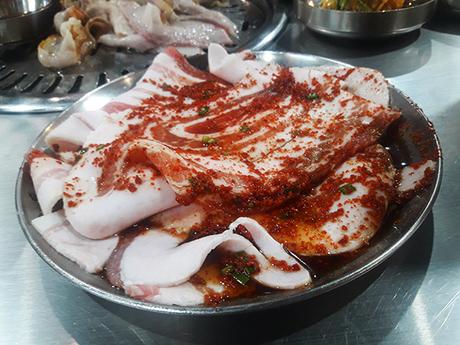 marinated pork slices
We got the chance to visit a 
Samgyupsalamat branch
at
Marikina Heights
one noon after playing hours of badminton yet again (
just like our steak trip at Brickfire
) at
Katipunan Prime
. It's another unplanned and impulsive dine out with the gang since a lot will happen in the coming days which we know we'll get very busy. #AngMahiwagangManiobra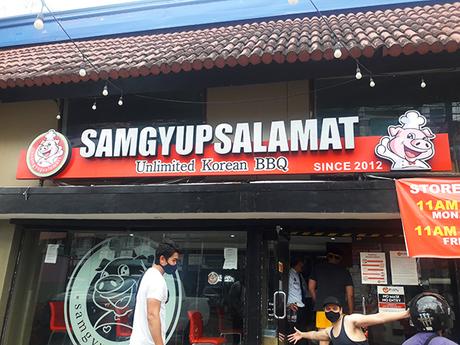 Guess who is paying! Haha
Upon entering, proper disinfection was practiced due to the pandemic. The guard recorded our temperatures, disinfectants were provided, and even a humidifier was there to welcome us. I like it! Haha! Smoke everywhere.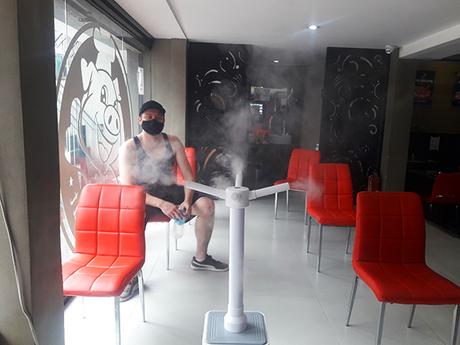 Enjoying the smoke Tito?
The beef was not available that time but since we were all hungry and ready to eat, we will take anything they would be serving us, I think. Lol! It was priced at
P449
or
$9
per person. It was
Carlo
's treat (
again
) so we were all ecstatic because we have a saying here that "
The food always tastes so much better when it's free
". What a welcome treat 
Carlo
! XD #NumbaOne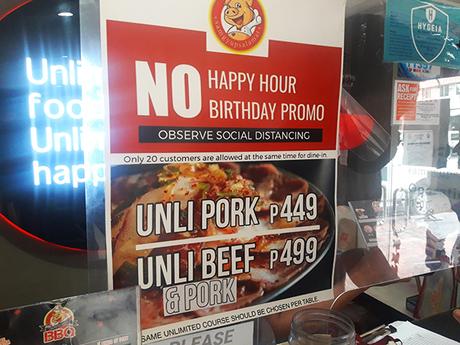 Samgyupsalamat rates
They had this protocol that only three persons can share a grill so we have to split out. We were placed right next to each other's tables though but the distance is just quite hard to conquer. Don't worry, the interior is pretty neat plus the food will keep you company and busy.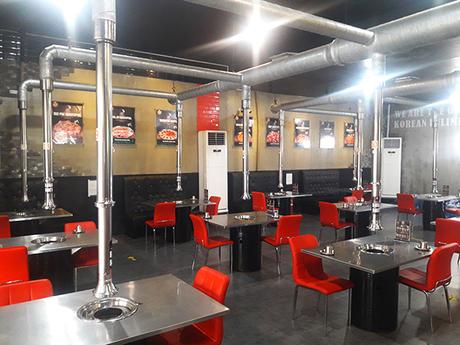 inside Samgyupsalamat
And with that, we get right into the food! Well, I am not that savvy when it comes to the sides but I am digging them just by how they were being served. BUT, first things first.. The unlimited iced tea feature was heavenly to know! After those games? Man, I can drink liters of this.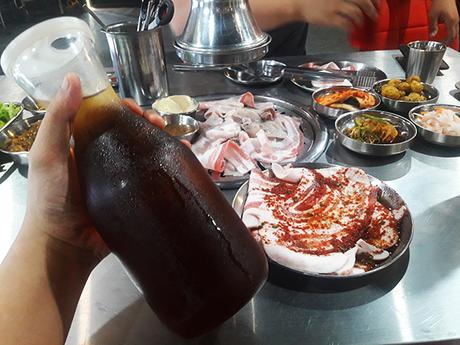 unlimited ice tea
Their side dishes were composed of the following:
> Fish cake> Marble potatoes> Pamoochim> Japchae> Kimchi> Radish> Onion> Denjang soup> Geran Jjim (
My favorite
)> Lettuce> Rice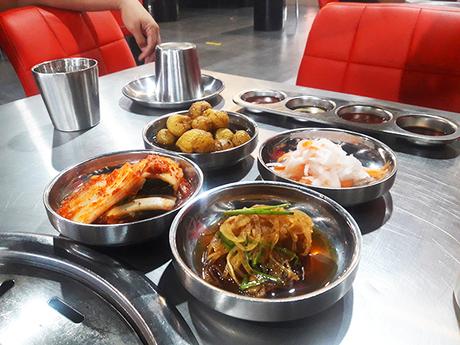 side dishes group 1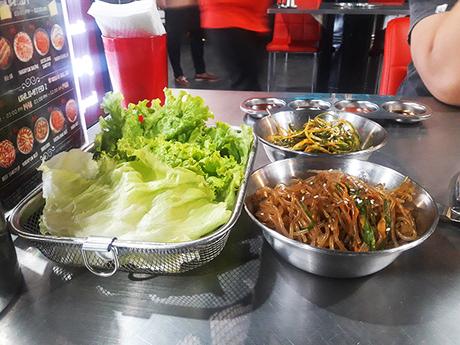 side dishes group 2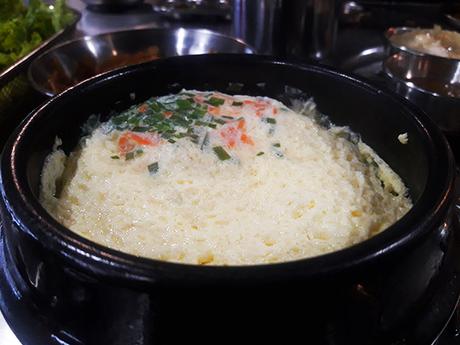 Geran Jjim
The Geran Jjim caught me off guard that I was eating a lot of it making me feel full fast. But it was so tasty! Haha! I am actually interested to make my own version if given the time (
hehe
).  Anyway, You can ask for different kinds of pork or beef (depending on what you paid for).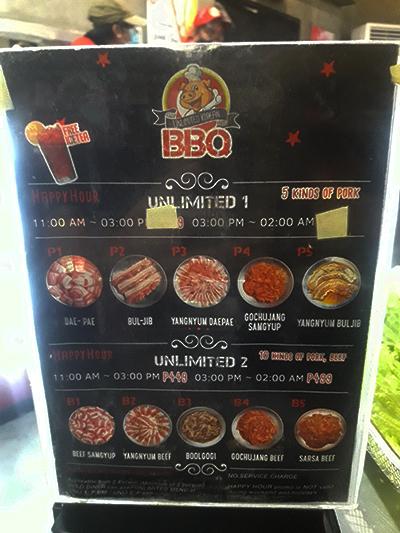 meat selection
In our case, we tried almost every type of pork but the
Yangnyum Daepae
(
P3
) was a standout. Dae-pae (
P1
) was your ordinary bacon, Gochujang Samgyup (
P4
) was similar to Tocino (has more fat chunks compared to the regular bacon), while the Yangnyum Daepae or P3 was the marinated version of the P1. It has a little bit of spiciness but just the right amount to enjoy it.
P.S. It is the first photo above
And yeah, I almost forgot. There is also cheese and gravy placed just above the grill so you can top them on your meat! I know, it's looking very bad now but oh it tastes so delicious. Lol.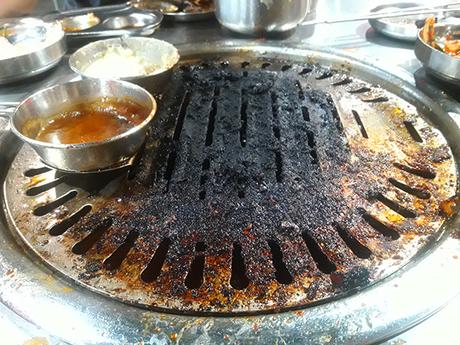 cheese and gravy above the grill
All in all, it was a smooth experience for us. We were all ready to sleep after and take our afternoon naps. Haha! There were a lot of revelations for me especially on tasting their meats first hand VS my comparison to other brands plus my expectations, but, I am happy to tell you that all of them are positive. Good job.
Sampgyupsalamat
! I think I am ready for my next visit! Well, we are!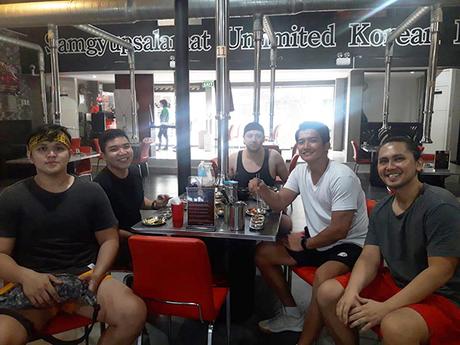 the gang
If you want to see our actual visit, feel free to watch the video below.
(If you cannot see the video above, click
HERE
for it)
Address: 
74 Gen. Ordoñez  Street, Marikina City
Operating hours: 
Monday to Thursday, 11:00AM to 9:00PMFriday to Sunday, 11:00AM to 10:00PM
Contact no.: 
277575090
Facebook fan page: 
https://www.facebook.com/samgyupsalamatmarikina
Instagram page: 
https://www.instagram.com/samgyupsalamatmarikina/