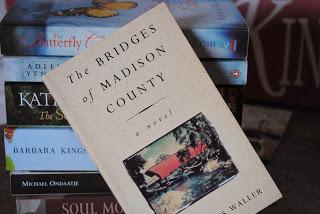 The Bridges of Madison County by Robert James WallerA Man. A Woman. The heat of an Iowa summer. And the brief encounter whose passion will last a lifetime.
My Verdict - It is incredibly rare, in fact I can only think of one other book - To Kill a Mockingbird, that I feel as passionate about a story in both film and book form as I do this beautiful piece of work by Robert James Waller. It is also incredibly rare for me to re-read a book but I have done so with 'The Bridges of Madison County'. OK so I re-read it two decades apart but still! If you have not read this book or seen the film adaptation then what is wrong with you?! Stop what you are doing RIGHT NOW and take a peek at either of them, I guarantee you will not be disappointed. What I love so much about this story, is not just that the writing of it is so beautiful but how Waller gets right into the mind of a middle aged woman. I didn't realize until the end that it is based on a true story which makes this novel even more special. If you only read one novel this year, then please let it be this one you will not be disappointed. 10/10  
The Secret Diary of Adrian Cat by Linda Macfarlane, Stuart MacfarlaneAbout Adrian: Adrian is no ordinary cat - he has ambitions. Not only does he want to become the most famous cat in the world but he's also determined to create world peace between cats, dogs and mice. Adrian's life is full of complications! In an attempt to win the affections of the power crazed, but beautiful Snowball, he is forced to join a gang run by the most evil cat in town - Killer. But Killer also loves Snowball and he's not going to let Adrian steal her away - not without a fight. On top of all of this Adrian has many adventures; he goes treasure hunting with a pirate parrot, saves the life of a fox and helps his best friend out of all sorts of trouble.
My Verdict - This book is said to appeal if you are nine or ninety-nine and is written (to me) somewhere between The Secret Diary of Adrian Mole and Bridget Jones. Again another Kindle freebie so an easy read and no money lashed out if you don't really enjoy it. This book will appeal to cat lovers everywhere, especially when Adrian talks about being In and Out (of the house) as being the same thing, and don't humans understand that when you are out you want to be in and when you are in you want to be out. Cat owners who's with me on this one! 7/10


Can you recommend anything which can beat my love for The Bridges of Madison County?