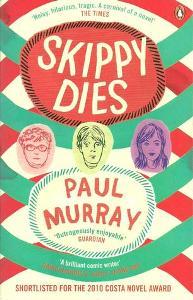 I have a big stack of "to-read" books lying in my bookcase; it's infuriating. I can divide those books up in three main categories: 1) books I have to read for my studies, 2) books I have to read for work (i.e. things I could do with my students), and 3) books I want to read.
Of course the books in the first two categories take precedence over the books in the last category, and I was hoping I could get to those during my summer vacation. Little did I know, that I would find myself having to make myself read just one of these books… Among those books are two of David Mitchell's works (Cloud Atlas and Black Swan Green), the John Frantzen novel Freedom, James Barbazon's My Friend the Mercenary, and the book I ended up reading The Orphan Master's Son by Adam Johnson.
A while back I had ordered a book by Paul Murray called Skippy Dies, because I thought I could give myself some respite from all the 'serious' literature by reading some YA in between. So, after finishing The Orphan Master's Son, I decided to reward myself by picking up Skippy Dies.
Paul Murray is an Irish (Dublin) novelist who has written two novels; the first one being An Evening of Long Goodbyes and the second one being Skippy Dies, the latter was longlisted for the Booker Prize of 2010 (among David Mitchell's The Thousand Autumns of Jacob de Zoet and Emma Donoghue's Room).
Although Murray only briefly taught English in Barcelona, he doesn't consider himself a teacher. Perhaps gleaning from his own experiences as a school boy, he manages to vividly portray life at a Catholic boarding school called Seabrook College for boys in Dublin.
As a reader, you fall right into the (almost) ending of the story as you watch, through Ruprecht Van Doren's eyes, Daniel 'Skippy' Juster die at a doughnut shop. Then you get thrown back about a year and slowly but surely – through the eyes of characters like Skippy himself, Ruprecht, history teacher Howard 'The Coward' Fallon, Lori, Carl and many others – you get to experience that no event is triggered by just one other event (or person), but rather is interconnected with a countless numbers of events, people and their decisions.
Murray writes with humor and with feeling, and besides entertaining his readers, he teaches them about string theory (through nerdy Ruprecht), the Irish participation in the First World War (through Howard), and confronts them with moral issues (Tom 'Coach' Roche's confession and Greg 'the Automator's' reaction to it).
Featuring nerds, druggies, sex-maniacs, privileged kids, pedophile priests, unethical replacing school heads, cheaters, and whimsical women, Skippy Dies shows us the (mostly) naive adolescent world and how it clashes and transgresses into the adult world while the two always remain to exist in parallel. I don't even know whether I should call it YA literature anymore.